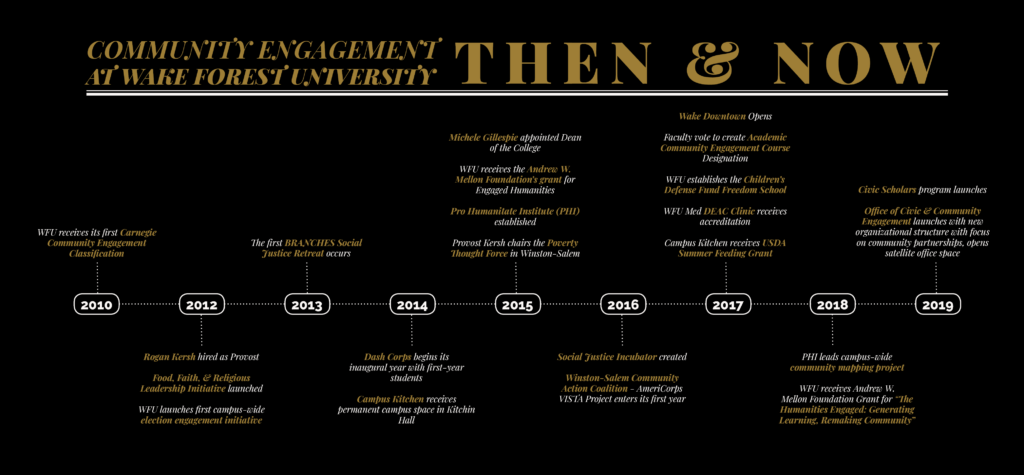 The Carnegie Foundation has announced that Wake Forest University is one of the 119 U.S. colleges and universities to receive the Carnegie Community Engagement Classification, an elective designation that indicates institutional commitment to community engagement. Wake Forest joins 75 other institutions who have been reclassified, after initially receiving the designation in 2010. 
This important classification is awarded following a rigorous self-study by each institution, which is then assessed by a national review committee led by the Swearer Center for Public Engagement at Brown University, the administrative and research home for the Carnegie Community Engagement Classification. The application requires a comprehensive assessment of community-based work, including an audit of service-learning courses, procurement practices, infrastructure, leadership and co-curricular student engagement.
"These newly classified and reclassified institutions are doing exceptional work to forward their public purpose in and through community engagement that enriches teaching and research while also benefiting the broader community," noted Mathew Johnson, executive director of the Swearer Center. 
The Carnegie Community Engagement Classification has been the leading framework for institutional assessment and recognition of community engagement in U.S. higher education for the past 14 years with multiple classification cycles in 2006, 2008, 2010, 2015 and 2020. 
"We are honored to be recognized by the Carnegie Foundation," said Marianne Magjuka, assistant dean and executive director of the Office of Civic & Community Engagement. "It was truly a campus-wide effort; we utilized data from the Community Engagement Mapping Project and highlighted initiatives from every school at Wake Forest. We are excited to build on this foundation of excellence in community engagement."
As the hub of community-based activity at Wake Forest, The Office of Civic & Community Engagement (OCCE), formerly the Pro Humanitate Institute, serves community partners, faculty, staff and students to create meaningful social change. OCCE sponsors various programs for community partners, faculty, staff, and students that impact the local community, including:
During the reclassification process, Wake Forest identified more than 86 community-based programs and initiatives, involving 140 community partners. While the Office of Civic & Community Engagement serves as the hub of community-based activity on campus, more than 25 academic departments, offices or units sponsor a community-engaged project, with every Wake Forest school hosting at least one community-engaged project.
For more on community engagement at Wake Forest, visit communityengagement.wfu.edu.
Founded by Andrew Carnegie in 1905 and chartered in 1906 by an act of Congress, the Carnegie Foundation for the Advancement of Teaching is an independent policy and research center. For more information on the Carnegie Foundation, visit www.carnegiefoundation.org.
Recent Posts
May 4, 2021

May 3, 2021

April 28, 2021