The Campus Kitchen at Wake Forest University (CKWFU) functions to repurpose food in the Winston-Salem community that would otherwise have gone to waste. It functions as an asset-based approach to strengthening the Winston-Salem community by partnering with a network of civic, non-profit, and private organizations to develop innovative solutions to reduce food insecurity.
Relying on donations from Harvest Table Culinary Group at Wake Forest, The Fresh Market, Lowes Foods, and Cobblestone farmers' markets; student leaders pick up, prepare, and deliver fresh produce and nutritious meals every day of the week.
Students interested in learning more can contact student directors Raahim Khan and Samantha Martin.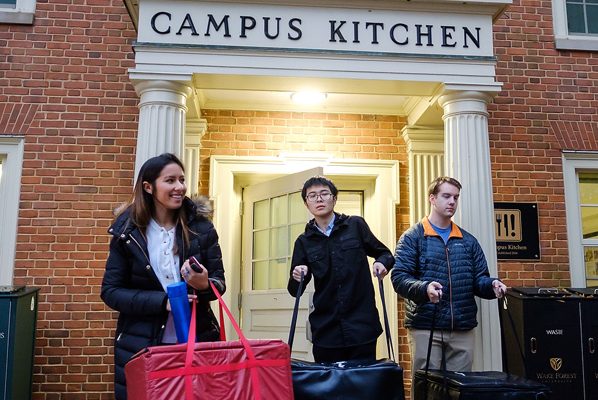 Volunteer
Help recover unused food, and prepare or deliver meals.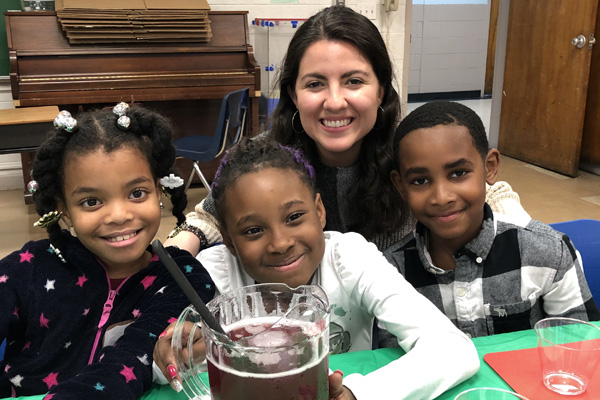 Kids Cooking
Teach children healthy eating habits with the Kids Cooking Coalition.
Frequently Asked Questions
The Campus Kitchen at Wake Forest University is a student-led effort that collaborates with campus and community partners to provide hot meals and fresh produce to local social services agencies and food insecure areas in Winston-Salem. Our student leaders pick up, prepare and deliver fresh produce and nutritious meals every day of the week.
Signing up to volunteer with us is simple! Visit our GivePulse page, and click our event tabs to see our volunteer shifts. You are able to register for multiple dates and shifts at once.
Long pants, close-toed shoes. Tank tops and sleeveless shirts are not permitted. Please refrain from wearing jewelry, watches, or bracelets. Long hair should be pulled back, either up in a bun or short ponytail.
No. All volunteers will be trained during their first shift! Your shift leaders are trained on all health and food safety guidelines that we are required to follow during our shifts and will teach you everything you need to know.
No, you do not need a car in order to volunteer with Campus Kitchen. All shift leaders are van certified and will drive you in our Campus Kitchen vans during your shift. If you have any issues getting to campus, our lounge is located adjacent to the shuttle depot.
All Campus Kitchen shifts will meet at our lounge during the start of their shift. The Campus Kitchen/Social Justice Incubator lounge is located in Kitchin Residence Hall, on the side closest to Sutton Center/Reynolds Gymnasium.
Yes. And yes. Come out and see if you like volunteering with Campus Kitchen. If you want to come every week you can, but it is not required. Or you can volunteer more sporadically. No obligation.
Please tell us before bringing your group out. We would love the help but would like to maximize your group's impact. We can reserve a shift(s) for you, so everyone can work as a team. If you would like to coordinate volunteer opportunities for a group/organization, please contact Brad Shugoll.
Community Partners
TurkeyPalooza
Each November, Campus Kitchen celebrates TurkeyPalooza by preparing hundreds of scratch-made turkey dinners for its community partners in celebration of the Thanksgiving holiday.