Hit The Bricks was started in 2003 as a campus-wide philanthropic event benefiting the Brian Piccolo Cancer Research Fund and the Comprehensive Cancer Center at Atrium Health Wake Forest Baptist.
Each fall, teams of students, faculty, staff, and alumni gather on Hearn Plaza taking turns running and walking laps around the Quad to show their solidarity in the fight against cancer. Throughout the day, participants, volunteers, and spectators enjoy fun activities, live music, and special guest speakers. The event concludes with a ceremonial remembrance lap before participants gather in front of Wait Chapel for a moment of silence to honor all those who have lost their lives to, or are fighting the battle against cancer.
This year's event is scheduled for Thursday, October 5, 2023.
---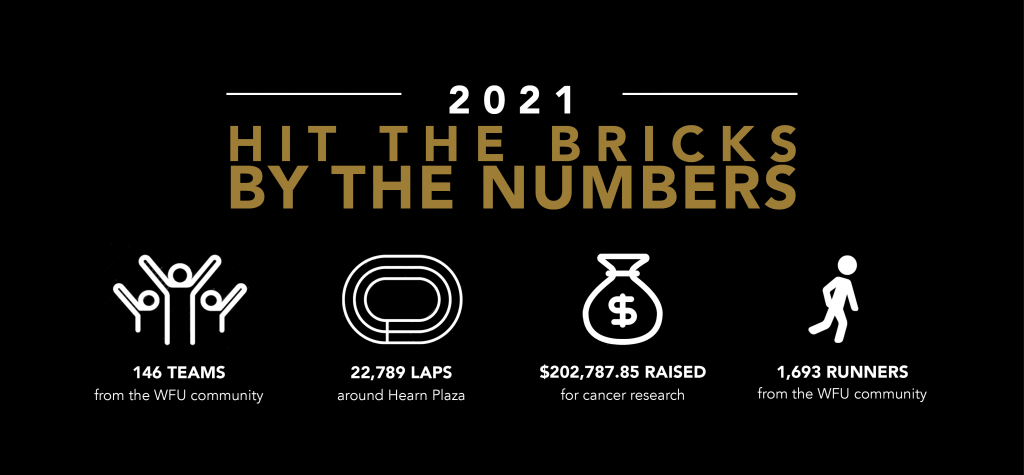 "Hit the Bricks is a great time for the Wake Forest Community to come together and participate in a great cause in the spirit of Pro Humanitate." – Hannah Cook ('21)
Hit The Bricks Archive
| Participants | Teams | Laps | Fundraising Total |
| --- | --- | --- | --- |
| 1,770 | 143 | 17,416 | $242,934.03 |
| Participants | Teams | Laps | Fundraising Total |
| --- | --- | --- | --- |
| 1,693 | 146 | 22,789 | $202,787.85 |
| Participants | Teams | Laps | Fundraising Total |
| --- | --- | --- | --- |
| 1,051 | 124 | 9,700* | $130,115.00 |
*In 2020, Hit The Bricks was held virtually due to the COVID-19 pandemic. Runners logged miles instead of laps around Hearn Plaza
| Participants | Teams | Laps | Fundraising Total |
| --- | --- | --- | --- |
| 1,200 | 109 | 23,014 | $83,247.00 |
| Participants | Teams | Laps | Fundraising Total |
| --- | --- | --- | --- |
| 975 | 90 | 20,926 | $60,118.00 |
| Participants | Teams | Lap | Fundraising Total |
| --- | --- | --- | --- |
| 1,400 | 111 | 23,974 | $80,606.00 |
| Participants | Teams | Laps | Fundraising Total |
| --- | --- | --- | --- |
| 1,401 | 118 | 28,814 | $59,843 |
| Participants | Teams | Laps | Fundraising Total |
| --- | --- | --- | --- |
| 1,050 | 100 | 24,366 | $42,090 |
| Teams | Laps | Fundraising Total |
| --- | --- | --- |
| 90 | 26,694 | $33,309.00 |
| Teams | Laps | Fundraising Total |
| --- | --- | --- |
| 89 | 22,987 | $30,080 |
| Teams | Laps | Fundraising Total |
| --- | --- | --- |
| 93 | 25,396 | $28,062 |
| Teams | Laps | Fundraising Total |
| --- | --- | --- |
| 89 | 25,571 | $26,782.00 |
| Teams | Laps | Fundraising Total |
| --- | --- | --- |
| 67 | 20,008 | $20,140 |