As a highly collaborative, campus-wide political engagement project, the Deacs Decide Steering Committee has representation from across the University community, including staff members from both student and academic affairs, as well as undergraduate and graduate student representatives.
In addition to the Steering Committee, the Deacs Decide Fellowship was created, providing Wake Forest students the unique opportunity to directly engage with nonpartisan civic engagement efforts. Together, fellows will work toward nonpartisan electoral engagement by registering students, faculty, staff, and community members to vote; creating and distributing educational materials; providing information about voting and polling locations; and organizing Deacs Decide events leading up to the 2020 election.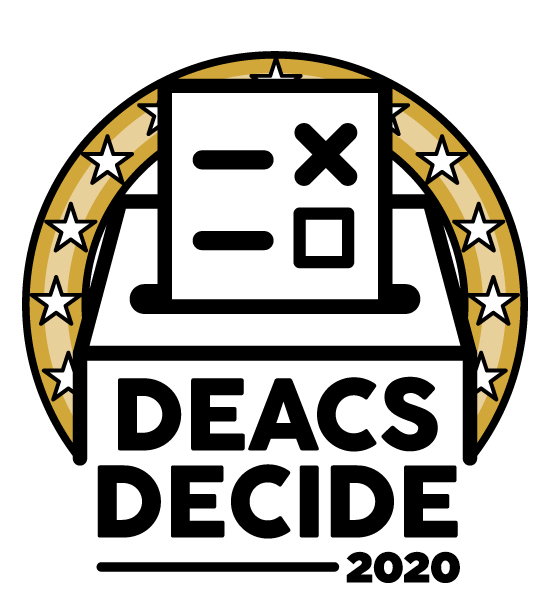 Deacs Decide Steering Committee
Erin Adamson
Assistant Director, Women's Center

Savannah Baber
Program Coordinator, Intercultural Center

Ashley Hawkins Parham
Program Manager of Wellbeing, Office of Wellbeing

Carrie Johnston, Ph. D.
Digital Humanities Research Designer, ZSR Library

Kayla Lisenby-Denson
Assistant Director, LGBTQ+ Center

Mary Beth Lock
Associate Dean, ZSR Library

Marianne Magjuka, Ph.D.
Deacs Decide Co-Chair
Assistant Dean of Students and Executive Director, Office of Civic & Community Engagement

Deb Marke
Deacs Decide Co-Chair
Assistant Director, Office of Civic & Community Engagement

Ann Phelps
Director of Programming, Leadership and Character

Penny Rue, Ph.D.
Vice President, Campus Life

Dexter Sharp, Ph.D.
Associate Director, Student Engagement

Erin Stephens
Communications and Event Coordinator, Office of Sustainability

Tion Taylor
Assistant Director of Residence Life, Residential Conduct

Rosalind Tedford
Director of Research & Instruction, ZSR Library

D'Najah P. Thomas
Associate Director, Residence Life

Hu Womack
Instruction & Outreach Librarian, ZSR Library

Deacs Decide Fellows
Catherine Carpenter ('23)
Programming

Samantha Horowitz ('21)
Campus Outreach

Gwyneth Lonergan ('21)
Academic Liaison

Elizabeth MacDonald ('23)
Programming

Jenna Mayer ('21)
Programming

Abby McNamara ('21)
Programming

Ashwin Singh ('22)
Campus Outreach

Drew Skilton ('23)
Marketing & Communications

Madeline Tuck ('23)
Marketing & Communications

Edna Ulysse ('22)
Campus Outreach