Wake Forest University student receives the Community Impact Student Award for outstanding work in civic & community engagement
Main Content
Over the weekend of November 4, Wake Forest University student, Couriyah Stegall, was presented with the Community Impact Student Award by NC Campus Engagement for her outstanding commitment and contribution to civic and community engagement. Couriyah was selected as the award winner by Wake Forest University administration after careful consideration of the students who made a lasting impact on the Wake Forest campus. She was honored for her efforts and achievements at the NC Campus Engagement biennial CSNAP Student Conference.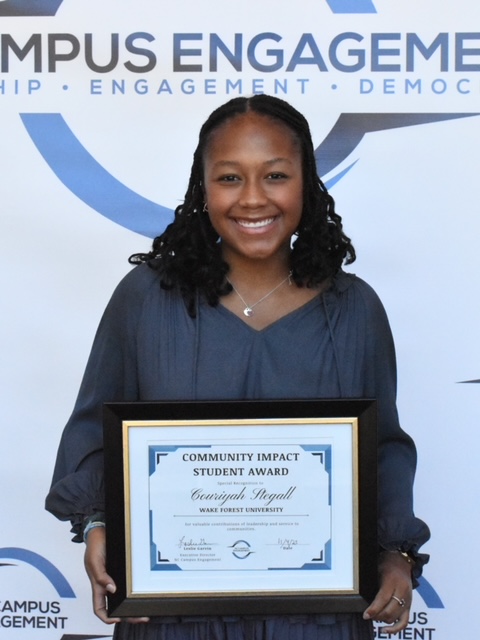 Since 2006, the Community Impact Student Award recognizes an outstanding, full-time undergraduate student service leader from each NC Campus Engagement member campus. Award winners are selected by campus leaders and honored during the biennial CSNAP Student Conference. This year, CSNAP was held at NC State University with the theme, "Rising Together: Students Depolarizing North Carolina."
Couriyah was selected as the WFU CISA winner because she is a distinguished student leader deeply engaged in campus activities who contributes significantly to several executive boards including Campus Kitchen, Project Pumpkin, and the Black Student Alliance at her university.
Couriyah has made a profound impact at the Campus Kitchen by expanding outreach efforts and collaborating with fellow peers to broaden the delivery sites. As a result of her efforts, the Campus Kitchen reinstated shifts to pre-pandemic levels, including 100 weekly volunteers who serve an average of 29,000 meals per year. Couriyah's profound passion for combating food insecurity resonates in her efforts, reflected in her impactful statement: "Food insecurity is something that I am passionate about, and I believe that I am making a difference in the community one meal at a time."
With her active involvement in various campus organizations, Couriyah has been instrumental in orchestrating meaningful community projects. Notably, her collaboration with the Black Student Alliance, the Office of Civic & Community Engagement, and the Women's Center led to the successful planning of a Period Packing Party. This initiative, held in honor of Women's History Month, resulted in assembling 300 period packs distributed to local schools and shelters in Winston-Salem and Forsyth County, evolving into an ongoing program. Couriyah's dedication and immediate impact have garnered praise from university staff, particularly in her ability to engage, lead her peers, and swiftly effect positive change on campus and within local communities.
Couriyah's journey in discovering her own community and camaraderie through campus organizations has inspired her to create inclusive and welcoming spaces for others. Her goal is to offer the same sense of belonging she found to students experiencing a similar sense of displacement on campus. Through her dedication to service organizations like BSA or Campus Kitchen, she aims to provide a supportive environment for others, encouraging involvement in community service activities. Her emphasis on the simplicity and impact of community service resonates as she motivates peers to engage, highlighting the importance of seemingly small acts that leave a lasting and significant impact on the lives of those in need. Couriyah's passionate approach to community engagement has not only increased student involvement but also raised awareness of community needs, creating a culture of impactful and meaningful service among Wake Forest University students.
North Carolina Campus Engagement (NCCE) is a collaborative network of colleges and universities committed to educating students for civic and social responsibility, partnering with communities for positive change, and strengthening democracy. The NC Campus Engagement state office fosters connections between campuses, shares best practice information and resources, recognizes outstanding work, and champions civic and community engagement in higher education. To learn more visit ncccampusengagement.org.