WFU is Ready to Hit The Bricks on Thursday, October 6
Main Content
Celebrating Two Decades of Hitting the Bricks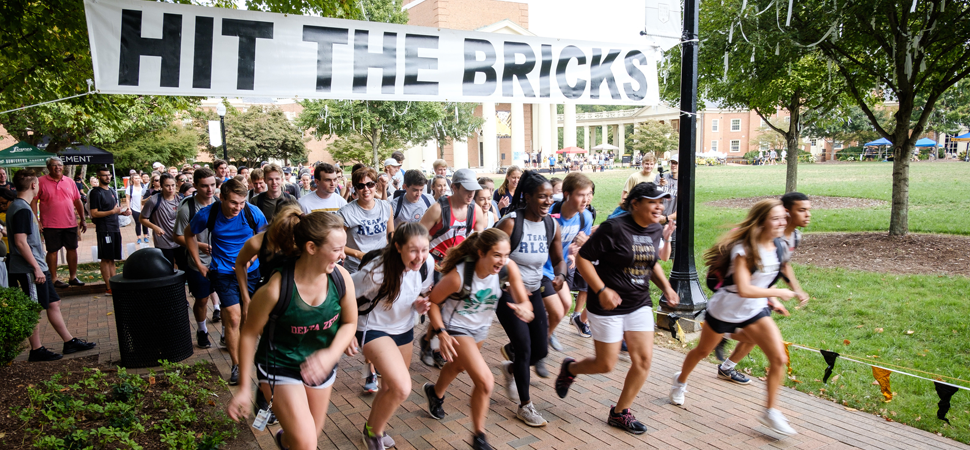 Written by Roksanna Keyvan | WFU '26
Encircling Hearn Plaza, thousands of red bricks lie in eager anticipation of Thursday, October 6th – a day where they will, once again, be joined by Wake Forest students, faculty, staff, alumni and friends for Hit The Bricks. For nearly two decades this beloved tradition has brought members from across the Wake Forest community together for an eight-hour relay event to raise money for the Brian Piccolo Cancer Research Fund.
Over the past 19 years, Hit the Bricks has had a significant impact on both the Brian Piccolo Cancer Research Fund and WFU community. Since the inaugural race in 2003 – which featured 17 teams and raised $4,000 – Hit the Bricks has become a beloved and memorable tradition. Just last year, 146 teams consisting of 1,693 participants ran over 5,600 miles and raised over $200,000 for the cause.
"Through this tradition, students are able to both connect to cancer research and come together to raise money for a shared cause," said Brad Shugoll, director of service and leadership in the Office of Civic & Community Engagement (OCCE). "In addition, this event is a powerful learning experience for students throughout their time at Wake Forest, as it provides them the opportunity to learn from each other about what philanthropy can look like."
This year, both individuals and teams can participate as they raise awareness and funds to find a cure for cancer. Together, participants will take turns making their way around the Quad – walking, running, or by any other means of motion. Throughout a day of bonding, light-hearted competition, and revelry, Demon Deacons will commemorate a cause that has long been important to the community.
Shugoll says this year's expected turnout is especially exciting: "After last year's record-setting year, we are looking forward to this year's event and seeing a return of students, faculty, and staff – both virtually and in person!"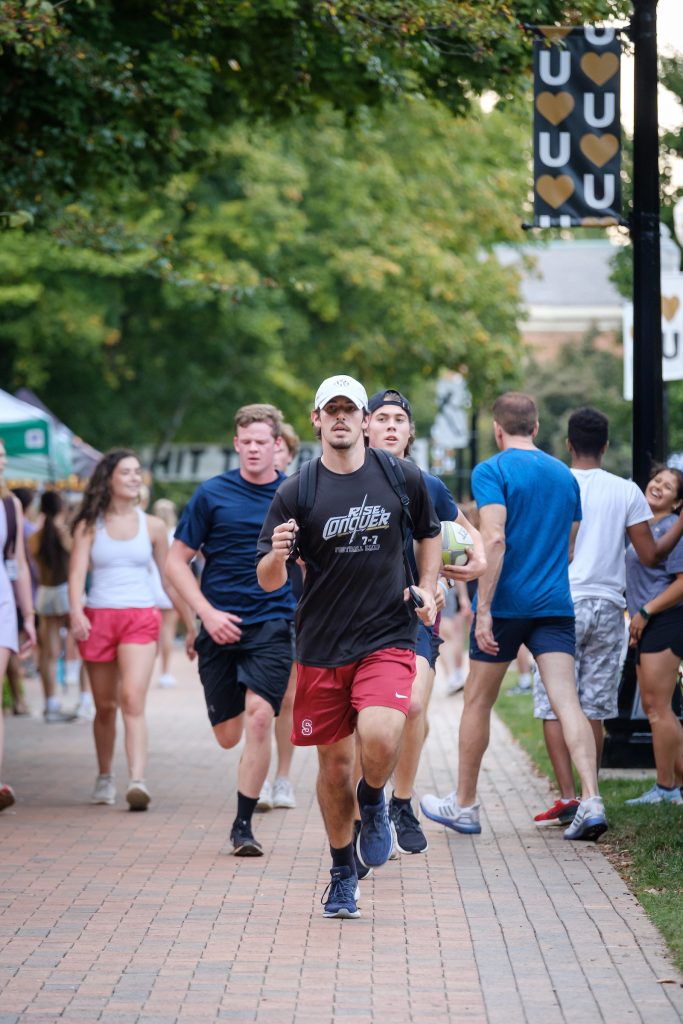 "One thing we've learned over the last two years is that you don't have to physically be here to participate with Hit The Bricks," continued Shugoll. "Because of that realization, we continue to have virtual engagement that allows alumni, students abroad, and other members of the WFU community to participate from anywhere in the world. It's now more about our Wake Forest community coming together – no matter where they are – and it's a pretty amazing thing to see."
Founded in 1980 by WFU students, the Brian Piccolo Cancer Research Fund honors the memory of 1965 Wake Forest graduate and Chicago Bears football star Brian Piccolo. At age 26, Brian was diagnosed with embryonal cell carcinoma and later lost his life to cancer in 1970.  Since 1980, through Hit the Bricks and other student-led initiatives across campus, the WFU community has raised over $5 million to support cancer research initiatives and improve patient care.
Want to get Involved?
The time to 'Hit the Bricks' is now! Grab your friends, student organization, or residence hall and start making your team. For those interested in participating, Shugoll has offered some advice: "For first-timers, it's important to coordinate with your team and hydrate regularly. Equally important is the fundraising effort. Don't forget to share your team page with family and friends. For returners, take advantage of this opportunity to gather with so many different people from across the WFU community.
"To truly immerse yourself in the Hit the Bricks experience, I recommend showing up for the last hour of the race, where there will be an opportunity to hear from a student speaker and their personal journey with cancer.  It truly is an incredible and powerful experience to witness and be a part of."
Or, if you prefer, donate to a team or individual to support their participation in Hit the Bricks.
We hope to see you out on the bricks! Go Deacs!