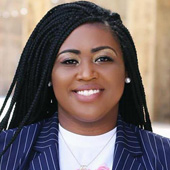 Camry Wilborn-Mercer, Assistant Director of Community Partnerships, was recognized with the Director of Volunteers Award at the Forsyth County Governor's Volunteer Service Awards on April 26, 2022, during an in-person ceremony hosted by HandsOn Northwest North Carolina at Salem College.
The Director of Volunteers award recognizes a paid staff member who exceeds expectations of good volunteer management skills including recruitment, training, coordination, risk management, evaluation, retention and recognition of volunteer service. 
Wilborn-Mercer was recognized for her work in the Office of Civic & Community Engagement, overseeing all K-12 initiatives. In her time at Wake Forest, Wilborn has overseen education outreach for the office, connecting WFU students to direct service in Winston-Salem/Forsyth County Schools, and ensuring that all volunteers are properly trained to work alongside minors.  
Additionally, she has created various programs from scratch, including Virtual Tutoring and Mentoring programs, launched in response to the COVID-19 pandemic, which has become an integral program in the OCCE that impact hundreds of college and K-12 students each year. In addition to her work with the virtual tutoring and mentoring programs, oversees the Network of Education Resources and Development – a network of campus organizations committed to addressing education equity. 
Created by the Office of the Governor in 1979 as a way to honor the true spirit of volunteerism, the Governor's Volunteer Service Awards are held annually in each of the State's 100 counties. HandsOn NWNC is the coordinator of the awards for Forsyth County.  Any person, group, or business from the public, non-profit or private sector serving Forsyth County may be nominated for the award.
For more information about the Governor's Volunteer Service Awards, click here.
Recent Posts
April 27, 2022

April 13, 2022

April 8, 2022