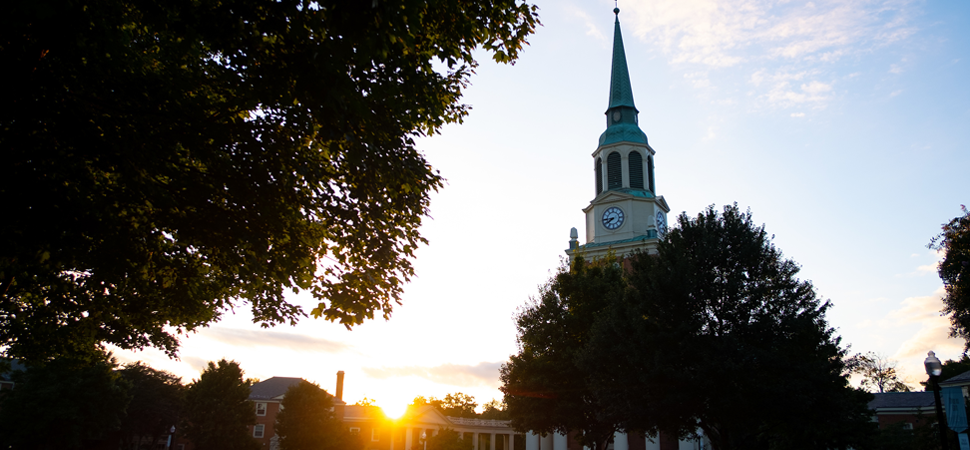 This fall, nine Wake Forest University faculty began a two-year fellowship to deepen their community-engaged work. Through the Office of Civic & Community Engagement's Academic Community Engaged (ACE) Fellows program these faculty create projects and partnerships that connect their teaching and research to the Winston-Salem community. 
It is our pleasure to introduce our newest cohort of ACE fellows for 2021-2023. 
Dr. Alexandra Brewer has been a Sociology Professor at Wake Forest since Fall 2020. In her research, Brewer examines the impacts of social inequality in the healthcare system. Through her work as an ACE Fellow Brewer hopes to bring a community perspective to her course Opioids in American Society by partnering with Twin City Harm Reduction Collective. Dr. Brewer is excited for her research to connect with the community so that she might learn more about the practical ways to fight the opioid crisis in Forsyth County. 
Dr. Andrea Gómez Cervantes studies how immigration policies impact LatinX individuals and communities. In her new course "Immigration Lab" Dr. Gómez Cervantes plans to guide sociology students in their understanding of immigration policies by partnering with immigrant-led/immigrant-serving organizations in Winston-Salem. She expressed her enthusiasm for the fellowship stating, " I believe that as a new faculty, this opportunity will provide me with the grounding blocks to develop a strong teaching and research career at Wake."
As an assistant professor of engineering, Dr. Courtney Di Vittorio plans to include her students in bridging the gap between civil engineering scholarship and community organization decision-making. Dr. Di Vittorio is excited to inform local water quality management to make decisions that are socially, economically, and environmentally responsible based on her research in hydrology and remote sensing. Dr. Di Vittorio is especially interested in the cohort component of the fellowship. "I suspect that I will feel surprised and excited when learning how my peers have been engaging with the community and I hope this program will encourage me to challenge my own research and teaching goals." 
Earlier this Fall, Dr. Di Vittorio and her colleague in Engineering Dr. Kyana Young received an environmental enhancement grant from the NC Attorney General's office to develop low-cost lake water quality monitoring systems. 
Dr. Hannah Harrison is excited to use her ACE fellowship to deepen her community engagement in the classroom. As an assistant teaching professor of writing, Dr. Harrison will guide her students in examining how food-based organizations use rhetoric and marketing to express their mission. Throughout the course, she hopes to pair her students with local food actors. Through this partnership, students will gain valuable experience in writing for the non-profit sector, while community organizations will receive assistance in writing and visual marketing.
Dr. Lauren Miller is a Spanish and Italian Professor at Wake Forest University. Dr. Miller hopes to use her experience in Spanish tutoring community engagement to build partnerships between the Spanish Department at Wake Forest with local schools serving the LatinX community. She plans to have her students serve as tutors for Spanish-speaking students to encourage bilingualism in our community. 
Dr. Mir Yarfitz is excited to explore how his scholarship in the History Department at Wake Forest University can interact with the community within Winston-Salem. Dr. Yarfitz is actively involved in social change in Winston-Salem and is specifically interested in the intersection between Latin American Studies and LGBTQ+ history. One of his goals as an ACE Fellow is to "continue to develop the Neighbor-to-Neighbor mutual aid project with more connective opportunities for Wake community members." This donations-based project has assisted over 300 families in the Piedmont. 
As an ACE Fellow Dr. Ryan Shirey plans to continue building partnerships to expand opportunities for community writing.  Associate professor in the writing program and director of the University Writing Center, Shirey will explore a "training trainers" model that would help community members enhance their writing skills. He hopes to build relationships with organizations and community members by providing training workshops and writing feedback. Dr. Shirey is excited to further explore collaborative learning in his scholarship. 
Dr. Erin Brinkley and Dr. Brian Calhoun will work as a team, bringing their experience and expertise together for their ACE Fellows project. The Counseling and Education professors (respectively) plan to create a podcast to feature the different ways that individuals and organizations on Wake Forest's campus serve our Winston-Salem Community. Dr. Brinkley and Dr. Calhoun expressed, "There are a number of volunteer opportunities we would like to highlight as part of our ACE fellowship, and our hope is that this project spotlight will help generate enthusiasm and participation with OCCE initiatives." 
Learn more about the ACE Fellows
Recent Posts
April 27, 2022

April 13, 2022

April 8, 2022