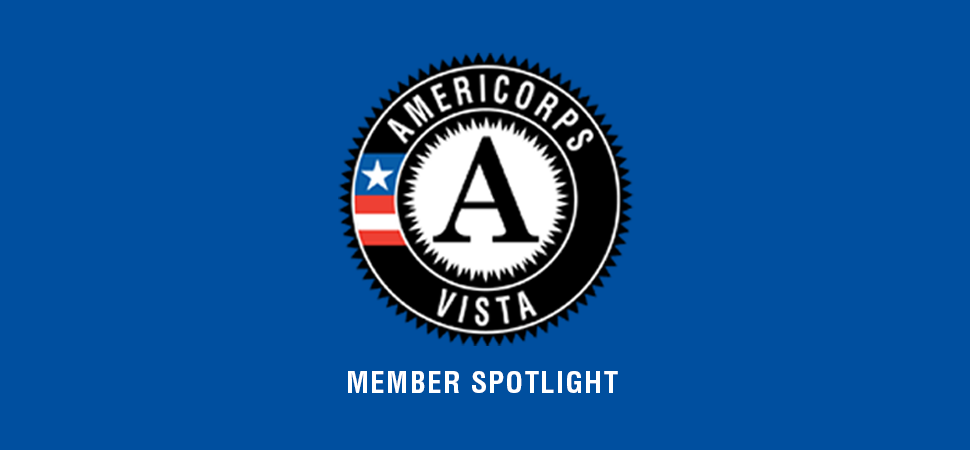 The Winston-Salem Community Action Coalition consists of 18 AmeriCorps Volunteers in Service to America (VISTA) members sponsored by the Office of Civic & Community Engagement (OCCE) at Wake Forest University. 
Members are placed in full-time, capacity-building roles with community organizations throughout Winston-Salem in the areas of educational equity, economic empowerment, and health and food justice. United by their passion to make a difference, VISTA members have vowed to complete a year of national service and create meaningful change in Winston-Salem and beyond.
Since August, VISTA members have helped Winston-Salem community partners engage with over 900 volunteers and leverage over 325 thousand dollars in cash and in-kind donations.
This month the OCCE is happy to introduce Sydney King, the 2020-21 AmeriCorps VISTA with Kids Cooking Coalition; a Wake Forest program through the Campus Kitchen at Wake Forest University. Each year, Kids Cooking Coalition facilitates a six-week cooking class series for local children, designed to equip the next generation with the knowledge, skills, and ability necessary to take control of their food future. 
In her role, King researches best practices, communicates with participant families, and builds capacity for the program. 
---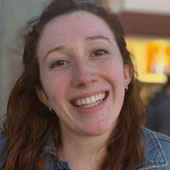 Sydney King, 2020-2021 AmeriCorps VISTA at Kids Cooking Coalition
Hometown: Pittsfield, Ma.
Alma Mater: McGill University ('20)
Degree: Bachelor of Arts in Political Science, minor in History
Favorite place in Winston-Salem: Reynolda Village
Why did you join AmeriCorps VISTA?
When I graduated last spring I felt that McGill gave me a really good theoretical education, but that I was lacking in boots-on-the-ground, practical experience. I had been able to serve the community through Challah for Hunger Montreal, a philanthropic organization dedicated to raising money to fight food insecurity in Montreal, and from that, I knew that I wanted to explore working to increase food security. When I looked into AmeriCorps*VISTA I realized that it could serve not only as a way for me to see if I found working in food security rewarding, but also to build my experience and gain a practical education. 
It was also nice to know that even with the instability of the pandemic, AmeriCorps*VISTA was a stable way for me to build my professional skillset while also serving the community.
What would you say is the highlight of your 2020-2021 VISTA year so far?
My highlight has definitely been the March virtual cooking program. We began working on building the new, virtual version of the program in September, and from then until late February we took the idea of what the virtual program could be and built it from the ground up. I conducted interviews with parents to get their feedback, talked to student leaders and then we took everything we learned and created a strong program. 
It was so rewarding to see the class come to fruition, see the families' pride in what their children were creating, and watch the chefs run their classes so well. The chefs we worked with were truly incredible. It's hard to teach people how to cook, and it's especially hard to teach children how to cook – let alone through a screen – but they were able to virtually teach children how to cook. The combination of our impressive chefs, our dedicated student leaders, and eager participants made the program a success, and that was by far the highlight of my year.
What would you want people to know about getting involved in the AmeriCorps VISTA program?
One of the reasons AmeriCorps appealed to me was that it was a way for me to travel to and immerse myself in a new community, and it provides a lot of support to allow for that. A lot of the members of this year's cohort are from the area or went to Wake Forest for undergrad, but I wanted to travel and work somewhere completely different – a place that was new to me. AmeriCorps VISTA provided me with a travel stipend and a settling-in allowance to make moving to a new city financially feasible.
I think that people who are interested in AmeriCorps VISTA need some bravery to get out of their comfort zone. While it can be daunting at first, it is also super rewarding to immerse yourself in a new environment and get to know the community through the eyes of people who have lived there for a long time. It may seem intimidating to travel and live somewhere new, especially in a role where you're serving the community, but that's a choice that AmeriCorps can help you to make.
As your AmeriCorps VISTA year of service comes near its end, what are your plans for the future?
Right now, I'm planning on moving back to Massachusetts to save up for grad school. I'm still looking into specific programs, but right now I'm leaning toward a Master of Public Health. I'm planning on working in the restaurant industry and volunteering with a local food security organization.