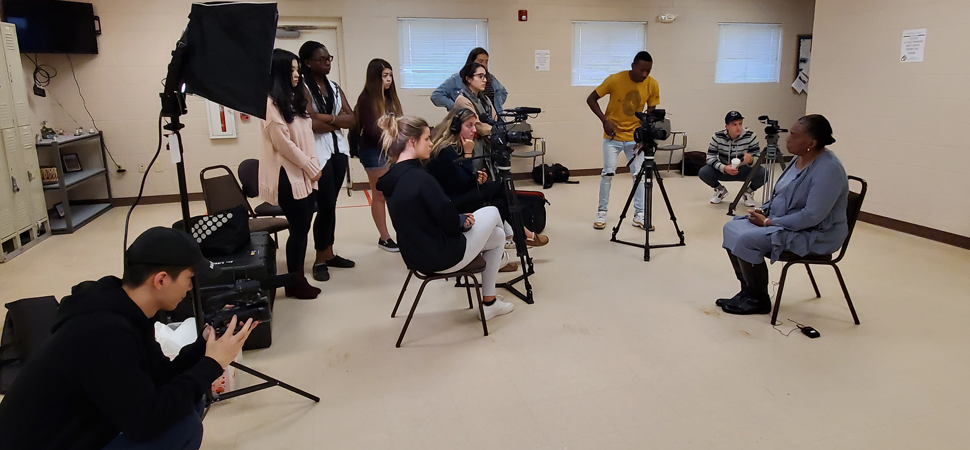 RiverRun Film Festival, one of the premier film festivals in the southeastern United States, will feature the world premiere of Bethesda: A Shelter's Story – the new documentary directed by Wake Forest visiting assistant professor of communications, Thomas Southerland – on Friday, May 14 at 8:30 p.m. EST in Bailey Park. The event, sponsored by The Bethesda Center, is free and open to the public. 
An official selection of this year's RiverRun Film Festival, Bethesda: A Shelter's Story lovingly profiles The Bethesda Center for the Homeless, which operates a day shelter and emergency night shelter for homeless men and women in Winston-Salem and Forsyth County.
Southerland directed, edited and produced the 69-minute documentary, immersing Wake Forest students in the process. 
While production was underway, Southerland welcomed 24 students from his fall 2019 Media Production course to The Bethesda Center where they met and interviewed shelter staff and guests on-site, collecting footage that would be used in the documentary. 
The students gained valuable production experience working with cameras, lights and sound equipment, but far more importantly, the two days of filming proved illuminating as they saw first-hand the personal side of homelessness, an issue they'd only read about before. By visiting the center, Southerland accomplished his goal of introducing his students to a community population they're shielded from on campus, and humanizing homelessness – the same mission he has for the audience of Bethesda: A Shelter's Story.
Following the two days of filming with Wake Forest students, Southerland returned to Bethesda Center several times over the winter and into the spring of 2020 to independently film additional interviews, ultimately completing filming just before the COVID-19 pandemic began. In all, a total of 28 interviews were conducted throughout production of the documentary.
Southerland is no stranger to RiverRun, having previously shown Proud Citizen (2014) and Fort Maria (2018). 
Virtual screenings of the documentary will be available starting Sunday, May 16. Tickets are required for the virtual theatre and can be purchased online through the Festival's website. 
Recent Posts
May 4, 2021

May 3, 2021

April 28, 2021