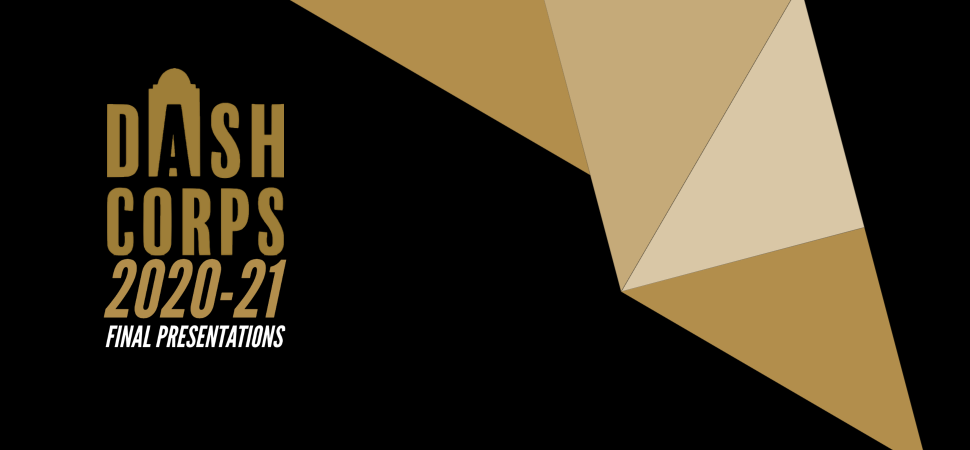 At the start of the academic year, 23 Wake Forest undergraduate students signed up to participate in Dash Corps, a year-long program highlighted by practical exposure to community development. Lessons in nonprofit management and social identity during the fall semester evolved into capacity-building projects for each of the selected community organizations, including Community Design Studio (CDS), HandsOn Northwest North Carolina and Forsyth County Young Leaders.
Dash Corps — a leadership and civic action program for WFU students looking to get more engaged in the Winston-Salem community — has helped community organizations build their capacity by partnering with the Office of Civic & Community Engagement (OCCE) and Wake Forest students for the past seven years.
"We're a small organization that is run solely by volunteers, so there are multiple ways that a program like Dash Corps is helpful to us," explained Lauren DiBianca Frye, Executive Director of Community Design Studio. 
"It helps us expand our capacity by engaging students in our work and processes, while also accomplishing a project or two that needs to be completed," continued Frye. "It's a wonderful opportunity to be able to leverage the skills that these students bring to the table, and get a different perspective on the work that we're doing." 
To keep all students and community partners safe throughout the ongoing COVID-19 pandemic, all meetings were held virtually this year. 
"For most of our students, it was hard to imagine what a normal in-person experience for Dash Corps would have looked like, as our participants were mostly first-year students entering college during this unprecedented time of virtual learning," said Camry Wilborn, assistant director of community partnerships, who manages the program. "Nonetheless, they still engaged with our community in meaningful ways and were able to cultivate the thoughtful civic identity that we hope to see in our students." 
Through the virtual program, what Wilborn found was a more intentional approach to civic and community engagement from this year's cohort. "Usually, we may see students rush to engage with community partners before they're properly prepared to do so," said Wilborn. "Since we were virtual, students got the time to learn, think and reflect about how they could work more intentionally in our community before they even began their projects."
Following their introduction to community development, students were divided into three groups and paired with their respective community partners to begin capacity-building projects. Putting their curriculum into action, each group met with its partnered organization multiple times throughout the year to learn more about the particular issue at hand and work together to find and present a plausible solution. 
"We needed help getting everything ready for our Leadership by Design Summer Camps," explained Frye. "At the Community Design Studio, a lot of the work we do is catered to high school students, so to have that younger perspective there to help create marketing materials and explain how a program like our summer camp could be beneficial to that specific audience is really valuable."
"Now that it's getting time to enroll students, it's great to have all of that work completed," said Frye. "It's already been extremely helpful, as the work that these students did for us is already getting used and shared with the community." 
In a typical year, students would present their final projects to the cohort and group of community partners, then gather at the OCCE End of Year Celebration to share their ideas with the greater Wake Forest community. In light of public health guidelines and social distancing, presentations were held in a virtual setting for the second straight year.
2021 Dash Corps Final Presentations
Community Design Studio: Micro-Credentialing Research & Marketing Leadership by Design Summer Camps
Leadership by Design Summer Camp Marketing Team Members: Cerrin Crawford, Bryanna Richards, Jamie Wander, Keri Small (Project Leader)
Students developed marketing plans to connect with middle and high school students interested in STEAM (science, technology, engineering, art and math) careers and inform them about the Leadership by Design summer camp. Through their marketing materials, students focused on making the programs more accessible, creating outreach plans to yield more diverse participants.
Micro-Credentialing Team Members: Mari Alonso-Camarillo, Sophia Lourduraj, Nia Thompson, Tiffany Tzintzun (Project Leader)
Students researched the effectiveness of micro-credentials – mini-qualifications that verify and demonstrate that specific skills or competencies have been achieved by an individual – in the workforce. Together they explored how micro-credentials were utilized by various entities. The team, primarily focused on Badgr, a platform Community Design Studio is looking to implement in its Leadership by Design summer camp.
HandsOn Northwest North Carolina: Create Promotional Videos for Service Enterprise Program
Members: Emily Bebenek, Janeel Black, Catherine Carpenter, Aditya Jamwal, Rebekah Lassiter, Micayla Jordan (Student Leader)
Students created promotional material for HandsOn NWNC and its "Service Enterprise" program, which provides education and certification for non-profit organizations to effectively improve the volunteer experience, by creating short testimonial videos of past partners who participated in the program and benefited from its curriculum in an effort to increase enrollment. 
Forsyth Young Leaders: Create a Marketing Plan for Volunteer Recruitment
Members: Robert Ayotte, Abigail Bermeo, Alexander Di Martino, Julia Ochsenhirt, Brady Kunz (Student Leader), Sherry Mao (Student Leader)
Students created marketing strategies and materials to advertise a new mobile app for youth volunteer service opportunities in Winston-Salem. Together they created a social media campaign to increase youth volunteerism in the area and developed a comprehensive plan to share information and increase engagement.
Recent Posts
May 4, 2021

May 3, 2021

April 28, 2021