Social Justice Book Club provides space for Wake Forest community to learn and grow
Main Content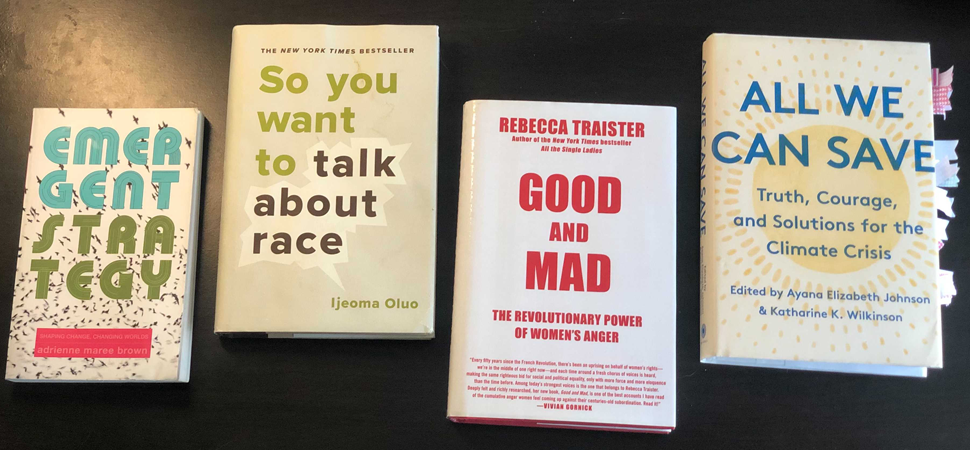 A year ago – as the entire Wake Forest Community was told it would not return to campus for the remainder of the semester – students, faculty and staff were faced with the realities of a global pandemic. As issues surrounding the Coronavirus filled newsfeeds and telecasts, they saw first-hand how it highlighted systemic injustices – with a disproportionate impact on marginalized communities. 
In an effort to engage students from afar on issues of social justice, Deb Marke, assistant director of social justice & advocacy at Wake Forest, created the Social Justice Book Club as a means to explore issues like race, gender, immigration, poverty and criminal justice issues through books, community and guided conversation. 
"There is so much value in learning and growing in community, and as everyone retreated into virtual learning, working and living, we lacked a sense of togetherness," said Marke. "I wanted to create a safe space for people to come together and learn about different social justice movements, and the Book Club provided a place to do just that." 
Since last spring, when the first group of students, faculty, and staff gathered for a virtual meeting to discuss Emergent Strategy by Adrienne Maree Brown, nearly 60 members of the Wake Forest community – including faculty, staff and alumni – have participated in the Book Club. Since then, it has incorporated books such as Ijema Oluo's So You Want to Talk About Race and Rebecca Traister's Good and Mad: The Revolutionary Power of Women's Anger.
Throughout the year, each book – selected intentionally by Marke – has proven to be a critical resource for readers when it comes to reframing conversations about various social justice issues.
"Each book that we read covers different topics while also reflecting what is happening in the moment," said Marke. "Through our reading and follow-up discussions, our readers are introduced to new and different perspectives, all while building their social justice framework to make the world a bit better and more equitable."
Participants in the Book Club range from those just beginning their foray into social justice work, to individuals looking to build upon their existing knowledge. For many, these conversations can be difficult and intimidating. However, through guided facilitation from Marke the goal is to have a designated space for engaging, eye-opening conversations.
"I have learned to navigate real-life situations in a more healthy and meaningful way," said Elizabeth MacDonald ('23), a sophomore who joined the Book Club when it began last spring. 
"Through each book and our follow-up conversations, I have learned something new, wrestled with meaningful issues and learned to sit with discomfort. Most importantly, I have gained a stronger understanding of what I can do to better my own social justice work." 
Bi-weekly virtual meetings allowed members to not only think more deeply about these particular issues, but gave them the opportunity to build community with one another despite the need to be apart.
"Being a part of the Book Club felt like a traditional college experience, even though it was all happening in a virtual space," explained MacDonald. "Not only has this given me the chance to further my own social justice education, but it has allowed me to meet new people that I may not have interacted with otherwise and provided me with different perspectives." 
This spring, as the Book Club grew and virtual programming continued, it joined a campus-wide reading circle with the Women's Center, Office of Sustainability, Program for Leadership and Character, and the OCCE's Environmental Justice Knowledge Community, to read All We Can Save: Truth, Courage, and Solutions to the Climate Crisis.
The campus-wide reading circle connected the Book Club with 50 other readers, all committed to educating themselves about the climate crisis. 
"Connecting the Book Club with the reading circle was empowering for a lot of the people that have been involved from the get-go," said Marke. "It not only reaffirmed the idea of learning and growing together, but showed that other people in our community are committed to this work and furthering their understanding of social justice movements." 
The Social Justice Book Club will continue this fall. All are welcome to join, including Wake Forest alumni and Winston-Salem community members. There is no cost to participate, outside of acquiring a book. For those interested in joining, please contact Deb Marke for more information. 
Written by: Mercedes Jackson (WFU '22)