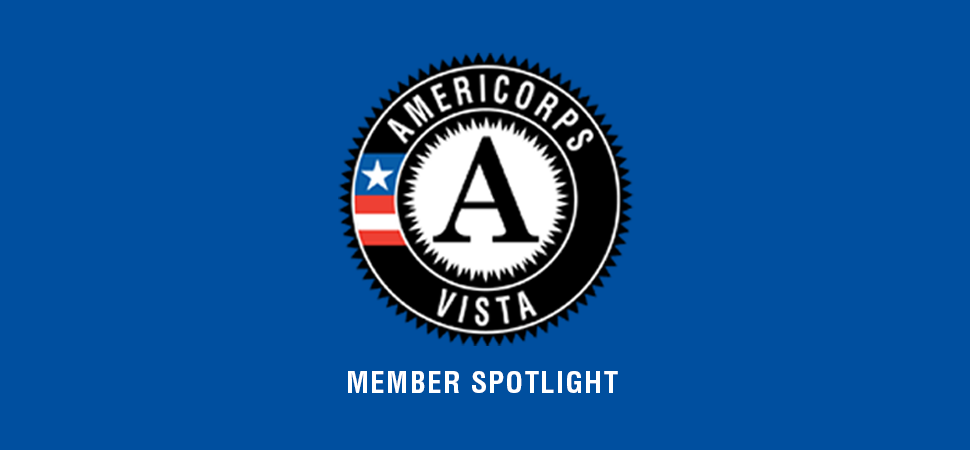 The Winston-Salem Community Action Coalition consists of 18 AmeriCorps Volunteers in Service to America (VISTA) members sponsored by the Office of Civic & Community Engagement (OCCE) at Wake Forest University. 
Members are placed in full-time, capacity-building roles with community organizations throughout Winston-Salem in the areas of educational equity, economic empowerment, and health and food justice. United by their passion to make a difference, VISTA members have vowed to complete a year of national service and create meaningful change in Winston-Salem and beyond.
Since August, VISTA members have helped Winston-Salem community partners engage with over 500 volunteers and leverage over 300 thousand dollars in cash and in-kind donations.
This month the OCCE is happy to introduce Maggie Latta-Milord, the former 2020-21 AmeriCorps*VISTA with ABC of NC; a local nonprofit dedicated to providing high-quality, evidence-based diagnostic, therapeutic, and educational services to people with autism spectrum disorder; ensuring service accessibility to individuals from any economic background; offering support and hope to families; and advocating for inclusion and acceptance. 
As of this month, Latta-Milord has transitioned from her role with ABC of NC into a new role as VISTA Leader, where she works alongside individual VISTA members and their respective service sites by providing support and coordination to help build their capacity and increase the overall impact of the project. 
---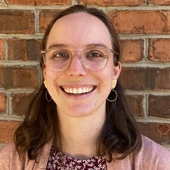 Maggie Latta-Milord, the new 2020-2021 AmeriCorps*VISTA Leader
Hometown: Winston-Salem, N.C.
Alma Mater: UNC Chapel Hill ('15)
Degree: Bachelor of Arts in Anthropology and a minor in Social and Economic Justice
Favorite place in N.C.: Max Patch in the autumn
Why did you join AmeriCorps VISTA?
Before joining the Winston-Salem Community Action Coalition, I was part of an AmeriCorps program called FoodCorps in eastern North Carolina that does work with school gardens to provide hands-on nutrition as well as health and science education. 
At the conclusion of my service, I was hired by my site as a Healthy Kids Specialist. Through that experience, I realized how much I enjoy working with schools and school systems to foster a culture of health, both in terms of exercise and nutrition but also thinking about how schools can incorporate social-emotional learning. That passion led me to North Carolina State University where I am currently finishing my Master of Education in School Counseling. 
While I'm finishing my schooling it made sense for both me and my husband to be closer to family, so we moved to Winston-Salem right as the pandemic started. I had been looking for jobs in the school system, but due to the pandemic, my plans changed. Knowing the value of national service and what it can be, and interested in strengthening my own connection to my hometown, the opportunity to work with local organizations and the OCCE as a VISTA member was an exciting prospect. I also wanted to see what was happening in the local community, in regards to social justice, as I was getting oriented and doing clinical experience as a school counseling student. Although this move has not been what I initially anticipated, it has ended up being an opportunity for me to connect with my hometown and build experiences that are going to make me a better, more community-oriented school counselor moving forward.
What would you say was the highlight of your time with ABC of NC?
There have been three projects that I was particularly passionate about. The first was a grant for a new program called 'ABC Cares' that would increase equitable access to autism resources, particularly in Black communities and other communities of color, both in getting an autism diagnosis and accessing services. It would allow ABC of NC to focus on the equitable recruitment of clients and implement a broader outreach strategy to targeted communities. This would allow ABC to share additional knowledge about autism, how to know or spot signs and symptoms, and share that knowledge across communities -particularly those that historically have not had access to that information. Unfortunately, the grant did not go on to be fully funded, however, there have been some complimentary funds that ABC is using to get the program off the ground. 
The second was 'Book Buzz', a weekly social media series where we featured either an author with autism or a character with autism through books. Throughout my service, ABC went on to include young adult books, adult books, and nonfiction books, but it was the children's books that I enjoyed getting to research the most. I made an effort to consider intersectionality and representation so that every child and every person was able to see themselves in a 'Book Buzz' reading experience. 
The third was a research map for autism resources in the community both in Forsyth county as well as the state of North Carolina. We were curating different organizations that provide autism or autism-related services – such as speech therapy, occupational therapy, therapeutic riding, employment. There are so many different services a family or a client might be seeking and waiting lists are really long with autism providers, so creating a visual map of who provides what services and where they are located is especially helpful.
What made you want to pursue VISTA leadership?
I enjoy helping folks connect with each other and with local organizations. I consider myself a big-picture thinker. I enjoy finding connections that may help service members grow and learn – not only in their work but within the cohort – finding ways to strengthen the connections between members of the Winston-Salem Community Action Coalition.
Prior to AmeriCorps, my experience was in public health where I mostly worked in project management, so naturally, I get excited about data, tracking impact, reporting, and showcasing the work of the VISTA cohort. I'm excited to work with those big-picture pieces and see how the entire project works together. 
In addition, This position also allows me to mentor current VISTA members, recruit new members and connect with a lot of different people – from community members, individuals at local organizations, and more. I hope to make the rest of this service year a meaningful experience for the current cohort and provide incoming VISTA members with a meaningful year ahead.
What are you most looking forward to in the next five months?
I'm certainly excited about getting started in a new role, but any time I'm transitioning to something new I try not to come in with too many expectations about how things will be. I like to take time to hear what's going on, what work needs to be done, and be responsive without any preconceived expectations. 
What would you want people to know that want to get involved in AmeriCorps VISTA?
One important thing to remember is that you get out of the experience what you put into it. There can be a lot of challenges in working a year-long position, but AmeriCorps invests in its members, professionally and personally. Not only do VISTA members build valuable skills in capacity building, communication, reporting, and whatever else they're doing for their service site, but they also have the opportunity to learn and grow in the ways that support their long-term goals. It's a great opportunity for people who are either starting a new career path or who are in transition and want to get perspective on where to go, or what to do next.
Written by: Ria Matheson ('20), AmeriCorps*VISTA member with the WFU Office of Civic  Community Engagement
Recent Posts
July 27, 2021

July 13, 2021

July 8, 2021