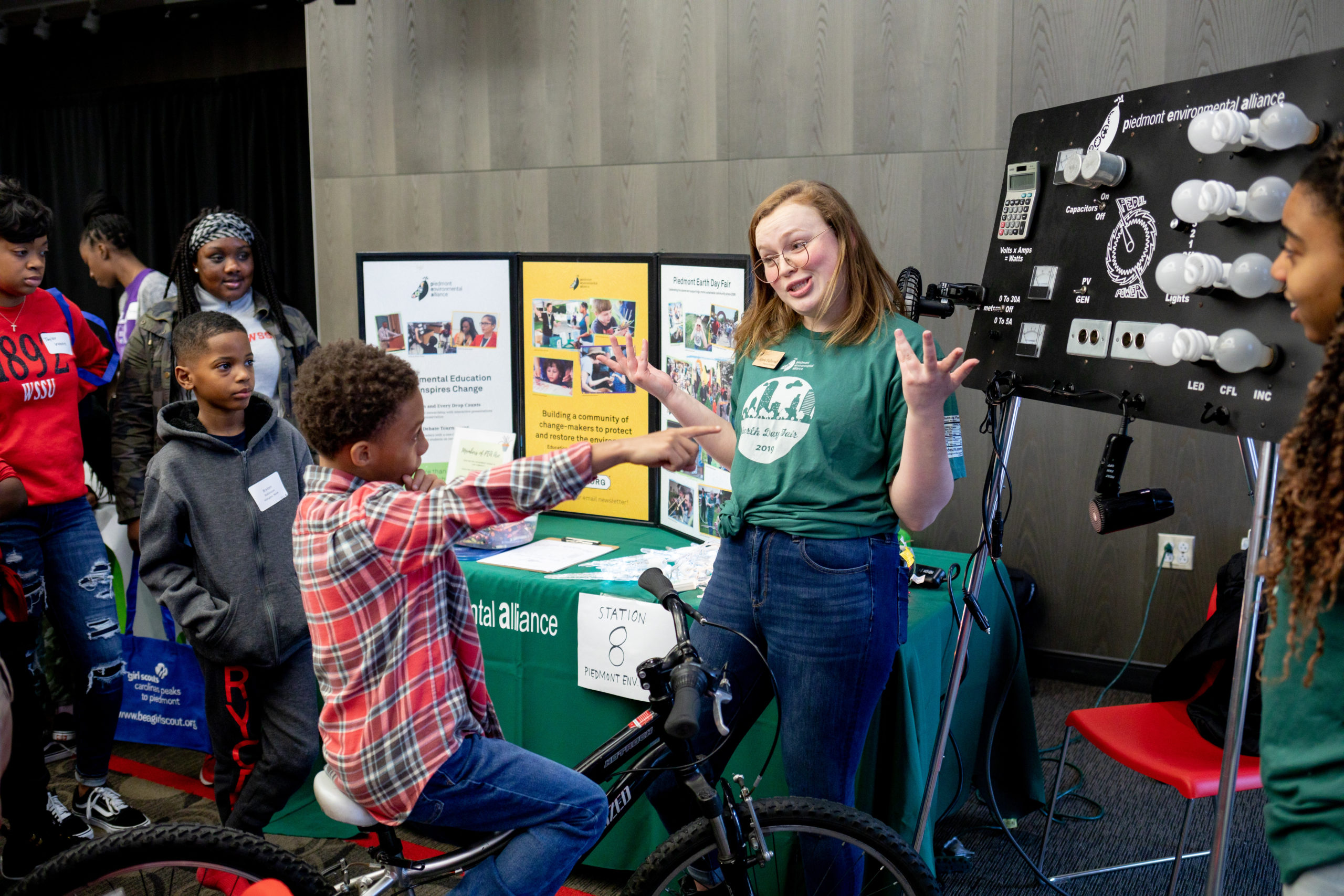 For the past five years, members of the Winston-Salem Community Action Coalition (WSCAC) have been serving the Winston Salem community. Hosted by the Wake Forest Office of Civic & Community Engagement (OCCE), the WSCAC is part of the AmeriCorps Volunteers in Service to America (VISTA) program, a federal program that helps eradicate poverty through education, economic empowerment, food security, and more. 
Marianne Magjuka, Executive Director of the OCCE, established the VISTA project at Wake Forest in 2015. 
"AmeriCorps*VISTA members build capacity in community organizations to address persistent issues, such as lack of affordable housing, food insecurity, accessible health care, and K-12 education," explained Magjuka. "We saw the project as a way to support local organizations in expanding their reach."
Since it began, the WSCAC has hosted 83 VISTAs as either full-time corps members (36) or short-term Summer Associates (47). Together, those 83 WSCAC members have engaged 5,808 volunteers, overseen 13,444 community service hours, and secured $862,555.80 in cash resources for Winston-Salem community organizations. 
In 2015 the project started with four full-time members; today, nineteen members serve at organizations throughout Winston-Salem. At this point, 38 different community organizations have hosted VISTA members. While full-time members support the majority of the project, Summer Associates assist both the Wake Forest Freedom School and summer food access programs at Wake Forest, along with virtual internships in capacity-building roles.
"Five years later, I am surprised by how quickly our project has grown," Magjuka explained. "It has been a joy to meet these amazing, committed national service members and see the remarkable impact that they have in the Winston-Salem community."
Each year, local organizations propose projects to build capacity in their organizations, and prospective national service members from around the country apply to serve. Once a strategic match has been made, the focus for both the organization and the member is to advance poverty alleviation work in a sustainable way. While a VISTA member may only serve for a year, they are able to ensure the long-term impact of their work within the organization.
Eileen Ayuso, Executive Director at The Shalom Project, which works to challenge the cycle of poverty in Winston-Salem, knows firsthand the impact that a VISTA member can have on an organization. For three years, a VISTA member has assisted The Shalom Project in every area of the organization from volunteer recruitment to social media outreach.
"We are a very small staff and we are very volunteer dependent on what we do," explained Ayuso. "Having a VISTA member has been really helpful for us to have an additional full-time person to tend to things that we may not have gotten to do otherwise."
This year's VISTA at Shalom, Katie Hildebrand, will work with the Flourish Initiative, a high-impact poverty reduction model aimed at supporting women and their families. Through Hildebrand's work, the initiative will have the opportunity to expand to more women and families throughout the Winston-Salem community. 
"Having a VISTA at Shalom has helped our organization in countless ways," said Ayuso, "and we are looking forward to continuing that partnership this year with Katie, our most recent VISTA. Having someone placed with our organization has helped us in our program delivery, both internally with our staff and externally with our participants and volunteers." 
Many VISTA members develop skills and gain experience that shapes their professional careers. Both Magjuka and Shelley Sizemore, Director of Community Partnerships in the OCCE, served as VISTA members. "VISTA was a transformative part of my story, and I am focused on supporting our members during their time in the program, as well." The OCCE offers monthly professional development workshops and regular networking sessions for VISTA members. 
"Collectively, VISTA members work together to improve outcomes and expand access in our community," Magjuka said. "I am excited to see what they accomplish in the years to come."
To learn more about the Winston-Salem Community Action Coalition or to apply, please contact Shelley Sizemore.
Written by: Miranda Wells (WFU '22)
Recent Posts
May 4, 2021

May 3, 2021

April 28, 2021