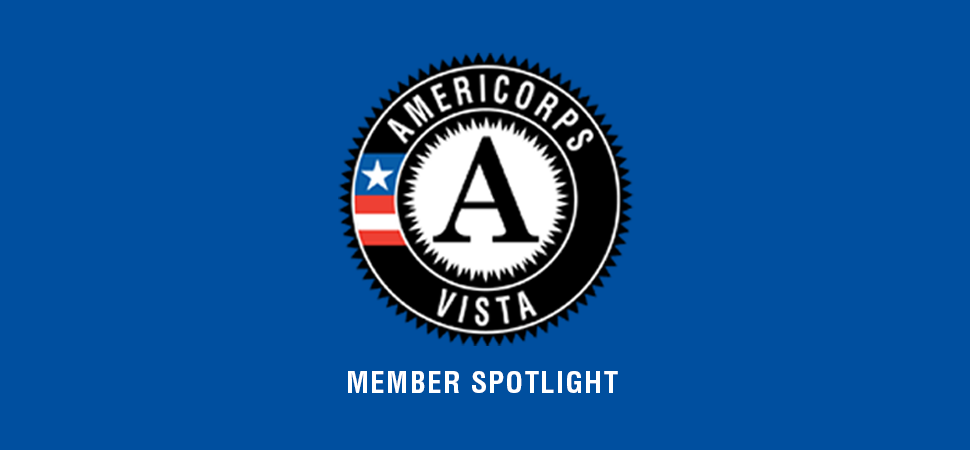 The Winston-Salem Community Action Coalition consists of 18 AmeriCorps Volunteers in Service to America (VISTA) members sponsored by the Office of Civic & Community Engagement (OCCE) at Wake Forest University. 
Members are placed in full-time, capacity-building roles with community organizations throughout Winston-Salem in the areas of educational equity, economic empowerment, and health and food justice. United by their passion to make a difference, VISTA members have vowed to complete a year of national service and create meaningful change in Winston-Salem and beyond.
Since May, VISTA members have helped Winston-Salem community partners apply to 72 grants, engage with nearly 700 volunteers and leverage over 2.3 million dollars in cash and in-kind donations. 
This month the OCCE is happy to introduce Marquita Wisley, the 2019-20 AmeriCorps VISTA with The Parenting PATH; a local nonprofit that works to prevent and treat child abuse and neglect by strengthening families, enhancing parent/child relationships and creating safer more stable communities. 
In her role, Wisley evaluates grant programs, implements program assessments for clients and funders, and creates new ways to recruit and retain new volunteers. 
Later this month, Wisley will transition to a new role as the 2020-2021 AmeriCorps VISTA with SHARE Cooperative; a local nonprofit that's principal goal is to provide service and assistance to the entire community, while promoting inclusivity. 
---
Marquita Wisley, 2020-2021 AmeriCorps VISTA at The Parenting PATH
Hometown: Yadkin County, N.C.
Alma Mater: Forsyth Technical Community College
Degree: Business Administration and Management
Favorite place in North Carolina: Blowing Rock, especially the fudge shop and Christmas store
Why did you join AmeriCorps VISTA?
I actually didn't seek out VISTA. I have been doing community organizing for a while and was approached by someone who asked me if I would be interested in applying for an open spot in the cohort I'm currently serving in. 
I decided to look over the VISTA Assignment Description or the work plan for the year, and it was similar to what I had been doing in my personal community organizing. I'm glad that I decided to serve, the connections I have been able to make with people all over the country in addition to learning different organizing styles has helped me grow over the last year, as well as become a stronger organizer.
What was your experience in the nonprofit sector before you joined AmeriCorps VISTA, and how did that impact your VISTA service?
My sisters and I have a neighborhood association that we started in 2014 in the Cleveland Avenue Neighborhood of Winston-Salem called the Cleveland Avenue Transformation Team. We do community organizing, volunteer organizing, and parent engagement in different areas such as housing insecurity, food insecurity, reentry, and education. When I began my service year at The Parenting PATH I was able to bring previous knowledge that I had gathered through that experience from my work with the Cleveland Avenue Transformation Team. 
I was also able to utilize the training I had received before starting the neighborhood association throughout volunteer training I helped facilitate at The Parenting PATH. My hope is that once The Parenting PATH is able to resume in-person volunteer work, that knowledge that I shared will help them both teach and retain more long-term volunteers.
What would you say has been the highlight of your 2019-2020 VISTA year?
In-service training was definitely a highlight for me. I was able to go to Philadelphia for in-service training for a few days at the beginning of my service year last November, and it changed the way I thought about AmeriCorps, and specifically AmeriCorps VISTA. 
I met a woman who had been with VISTA for about fifty years, and until then I didn't know that you could serve that long. When I was first selected for the role, I thought that VISTA members were mostly college students serving right after graduation, and I had no idea that there were adults and seniors serving in AmeriCorps as well. It was a great experience that allowed me to learn from the people around me, and reevaluate how I saw national service.
What are you most looking forward to in your 2020-21 year ahead?
I am completing my year with The Parenting PATH in November and elected to take a second-year of service. 
After I finish with The Parenting PATH, I will be serving with SHARE Co-op, and am looking forward to learning more about the co-op structure. I think that if people have ownership of things, they take more pride in them. In addition, I think that through co-op ownership low-income communities could thrive and not just survive. I'm excited to learn from Rev. Bass because he's been working in the co-op structure for so many years, and learning from him will be both interesting and valuable.
What would you want people to know that want to get involved in AmeriCorps VISTA?
Serving in AmeriCorps as a VISTA is an amazing learning opportunity. My daughter is a college student and I've been encouraging her to serve this summer during her break. 
It's an amazing experience where you get to meet different kinds of people and learn new and exciting things. Even though I've been serving in the nonprofit sector for a number of years AmeriCorps VISTA has given me a better understanding of the inner workings of nonprofits. Learning both how they work and why they work is invaluable, and serving as a VISTA is a great way to learn all about work in the nonprofit sector.
Recent Posts
May 4, 2021

May 3, 2021

April 28, 2021