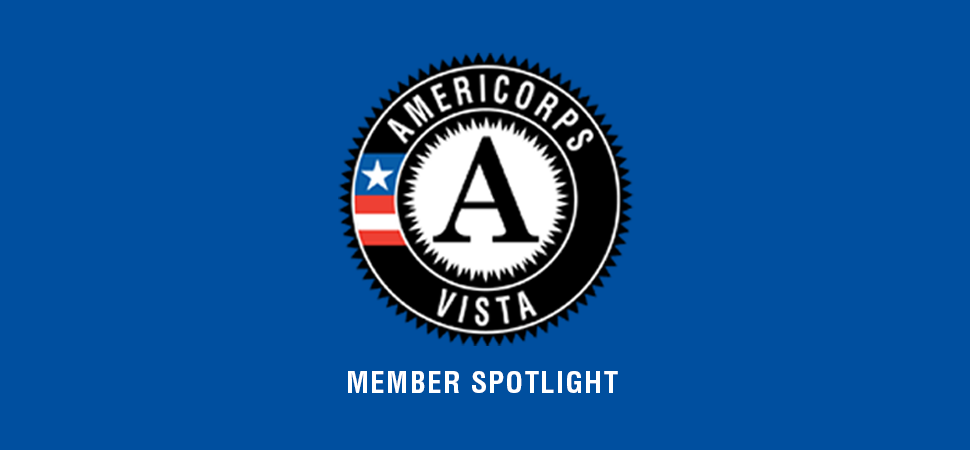 The Winston-Salem Community Action Coalition consists of 18 AmeriCorps Volunteers in Service to America (VISTA) members sponsored by the Office of Civic & Community Engagement (OCCE) at Wake Forest University. 
Members are placed in full-time, capacity-building roles with community organizations throughout Winston-Salem in the areas of educational equity, economic empowerment, and health and food justice. United by their passion to make a difference, VISTA members have vowed to complete a year of national service and create meaningful change in Winston-Salem and beyond.
Last year, a cohort of 18 VISTA members helped Winston-Salem community partners apply to 90 grants; implement 684 new initiatives, programs, and events for their service sites; and engage almost 2,300 volunteers. We are excited to see how the new cohort will continue to build capacity and engage in the Winston-Salem community throughout their service year.
This month the OCCE is happy to introduce Angela Morris, the 2020-21 AmeriCorps VISTA with Latino Community Services; a local nonprofit organization that seeks to offer Latino families hope for a positive future and to build bridges between the Latino community and the greater community as they facilitate cross-cultural relationships and bring new understanding and benefits to all.
In her role, Morris conducts grant research, implements new curriculums to promote healthy lifestyle choices for both middle and high school-aged children, and builds relationships with key community partners.
---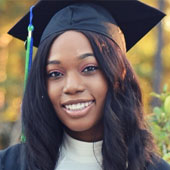 Angela Morris, 2020-2021 AmeriCorps VISTA at Latino Community Services
Hometown: Eatontown, N.J.
Alma Mater: University of West Florida
Degree: B.A. in Arts Administration: Theatre
Favorite place in North Carolina: Carowinds
Why did you join AmeriCorps VISTA?
I joined AmeriCorps VISTA because I am interested in pursuing a career in the federal government. At the time, I wasn't quite sure exactly what I wanted to do, so I decided that I wanted at least a year of being in the workforce to learn more about the type of work I may want to do down the road.
I have a friend that served as an AmeriCorps*VISTA. Because I was able to see them experience their service year first-hand, I knew that serving in the same capacity would be a great fit for me both personally and professionally. 
In addition, after a year of service VISTA members receive Non-Competitive Eligibility, which allows eligible exchange program alumni – such as VISTA members – to compete for federal jobs that are only open to current federal employees. Once I looked into it more I realized that having the opportunity to serve as a VISTA would not only allow me to gain invaluable professional experience but also help in fulfilling my goal of pursuing a career in government work.
What made you decide to pursue a VISTA year here in Winston-Salem?
I moved to Greensboro about a year ago, right after I graduated from college, so I applied to different AmeriCorps VISTA programs around the Triad. I interviewed at a few different programs, but when I talked to everyone at the Winston-Salem Community Action Coalition they gave me an idea of what I would be doing as the VISTA at Latino Community Services. I've worked with similar organizations before, so I felt that I would be able to serve here in the Winston-Salem Community Action Coalition the most effectively.
What would you say is the highlight of your 2020-2021 VISTA year so far?
I love that I'm learning about things that I had no clue even existed. I grew up in New Jersey and went to school in Florida. As I mentioned earlier, I moved to Greensboro a year ago, so Winston-Salem is still new to me. Working with Latino Community Services is helping me both find and make connections in this new community. I've learned about so many different resources both in Winston-Salem and nationwide that I'm able to utilize to help the children served by Latino Community Services. It's a really rewarding job, and I'm excited to see what else I'm able to learn in the months ahead. 
Serving as the VISTA at Latino Community Services has also sparked my passion for education equity, and helped me hone in on where I want my path to take me in the future. I've become more interested in working for the Department of Education, and hope to learn more about education equity throughout the rest of my service year with LCS.
What is the healthy lifestyle choices curriculum that you've been implementing, and how is it being taught in the midst of this pandemic?
The curriculum that I'm working on implementing right now is an MD Anderson Cancer Center program called ASPIRE. It's a smoking prevention program that teaches kids about the dangers of smoking tobacco, marijuana, e-cigs, and vaping pens. The curriculum is fully online and self-paced with different quizzes and modules to keep them engaged. The benefits of the fully online curriculum are that the students can easily fold this program into their virtual education, and it also keeps the students connected to Latino Community Services even though they can't come to see us in person right now.
What would you want people to know that want to get involved in AmeriCorps VISTA?
While it's a lot of work being a VISTA member, it's rewarding work.
Recent Posts
May 4, 2021

May 3, 2021

April 28, 2021