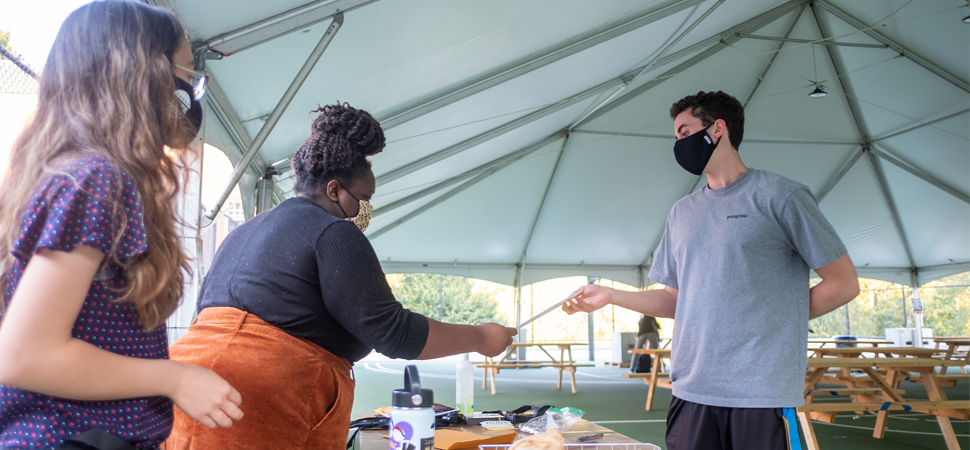 With the Presidential Election three weeks away, Deacs Decide fellows hope their hard work over the past month translates into heavy voter turnout.
They are Wake Forest University students who engage their peers in the election process by helping them with everything from registering to completing absentee ballots, said Deb Marke, assistant director of advocacy and social justice education in the Office of Civic and Community Engagement (OCCE). She is also co-director of Deacs Decide, a campus-wide project focused on election issues and voting.
Today at noon, Wake Forest University students will march to the polls to cast their ballots on the first day of early voting, which runs statewide through Oct. 31. They will be led by Student Government President Miles Middleton in the march organized by Deacs Decide and Izzy McMahon, a Wake Forest student who is a poll defender for +1 the Polls. Sponsored by MTV, +1 the Polls is the first-ever national effort to create new polling sites in local communities to give young voters easier access to polling locations.
Wake Forest's mascot, the Demon Deacon, will march with the students, and prizes will be given to the first 50 to show up. Marching to the polls will continue throughout the early voting period.
Wake students will vote at Winston-Salem First Assembly of God, which is across from the soccer field on University Drive and was added as a result of +1 the Polls efforts, McMahon said.
"A lot of students don't realize they can register and vote at the same location during early voting," she said. "Every day at noon, a notable campus figure or organization will walk with a group of students from the tent on Poteat Field, with a goal to get as many students to the polls as possible."
Recent Posts
May 4, 2021

May 3, 2021

April 28, 2021