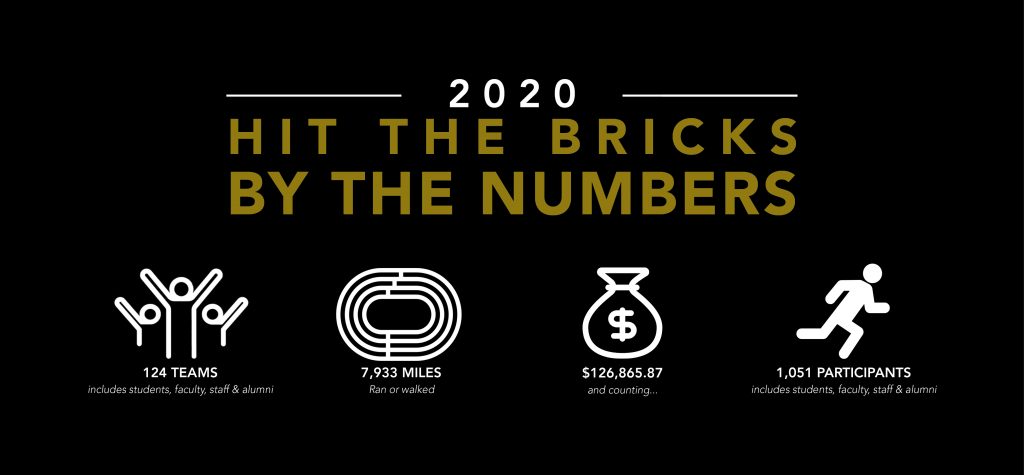 Hit The Bricks, the annual campus tradition that takes place each fall in honor of Brian Piccolo broke its fundraising record this year, raising $130,115.00 for the Brian Piccolo Cancer Research Fund.  The milestone marked the first time the event surpassed $100,00 in annual funds raised since it began in 2003.  
Over 1,051 members of the Wake Forest community including students, alumni, faculty, and staff participated, logging 7,933 miles. Participants tracked their miles by utilizing the STRAVA app. 
Due to social distancing requirements the event – usually a day-long relay race – was held over four days starting on Sept. 28 and ending on Oct. 2. This year's 'Hit The Bricks included both on-campus and virtual activities. 
In addition to logging their miles, participants had the opportunity to participate in "Find the Bricks" a daily scavenger hunt via social media and a "Quiz the Bricks," a nightly trivia challenge that offered cash prizes. 
At the conclusion of the event, representatives from the team with the most miles and team with the most fundraising dollars were invited to the Closing Ceremony alongside Hit The Bricks organizers. Together they participated in the silent commemorative lap in honor of those who fought but lost their battle to cancer. Following the final lap, Wake Forest President Nathan O. Hatch spoke to the group of 25 students, while Chaplain Tim Auman shared a personal family experience with cancer and the winners of the Hit The Bricks relay challenge were named.
Hit The Bricks is one of several events held throughout the year by Wake Forest students in honor of Brian Piccolo. Brian Piccolo was an All-American football player who attended Wake Forest in the 1960s and went on to become a running back for the Chicago Bears. Piccolo died of embryonal cell carcinoma at age 26 in 1970. A year later, ABC featured a move, "Brian's Song," about Piccolo's life and friendship with fellow Beas player Gale Sayers, who died on September 23, 2020. 
Funds raised from Hit The Bricks support the Comprehensive Cancer Center at Wake Forest Baptist Medical Center. Given this year's total, Hit The Bricks and other student-led initiatives have raised $4,605,657 for the Brian Piccolo Cancer Research Fund.
Recent Posts
May 4, 2021

May 3, 2021

April 28, 2021