Main Content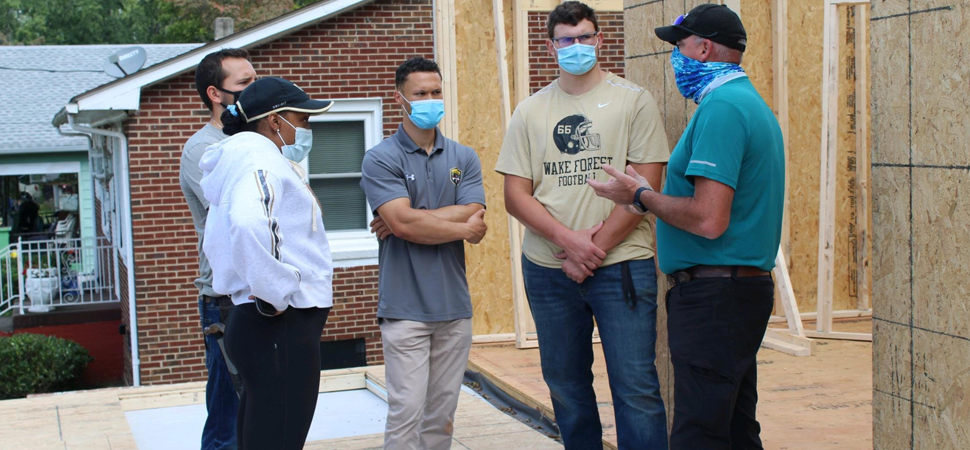 Last December, Dayton Diemel (WFU '21) met with Nick Lutzweiler, P.E., Visiting Assistant Professor of Practice in the Engineering Department, to discuss possibilities for his Capstone Design Project. A requirement for all seniors in the engineering program, Capstone Design Projects allow students to tackle real-world, multi-disciplinary engineering problems, all while improving the human experience.
The discussion led to a project focused on structural engineering with Lutzweiler, Diemel, and three other engineering students. The only problem? They needed a client. 
Lutzweiler, having worked with Habitat for Humanity in the past, had an idea. Could he find a way to fulfill a need for both his students and the community? He reached out to Habitat for Humanity of Forsyth County to see if partnering for the Capstone Design Project would be a possibility.
"When I initially reached out to Habitat, it turned out that they weren't just interested, but they had an actual need for additional house plans," said Lutzweiler. "They're in the process of developing a new community and were looking for ways to better serve those individuals. So, with a need for both house plans for Habitat and a Capstone Design Project for our students, the idea not only became a possibility but a reality."
What's great about our project is that it embodies the WFU motto, Pro Humanitate. We're giving back to the community, and what we're doing is going to impact a lot of individuals in Winston-Salem. – Dayton Diemel (WFU '21)
Jeff Myers, Director of Construction and Land Development at Habitat Forsyth, who has been working alongside Lutzweiler and his class throughout the fall semester was excited when he first heard the idea. 
"I had been struggling with the floor plans we had available and had been wanting to make a change, so when I found out about the project and they asked if I would be interested in partnering, I felt fortunate and blessed," explained Myers. 
Currently, Habitat Forsyth utilizes around four different floor plans in its communities. By partnering with the WFU Engineering Capstone Design Project, they will be able to provide additional and more functional floor plans for families in Winston-Salem. Ultimately, allowing homeowners to have a variety of choices when deciding what home will best suit the needs of their families. 
Lutzwieler is excited for his students to get hands-on experience both in the classroom and on the job site. Recently, the aspiring engineers participated in a wall-raising for a house under construction with Habitat Forsyth. 
"The fact that we are able to meet the clients and see the construction unfold in real-time on an actual job site, is invaluable," said Diemel. "Seeing how the whole process works is helpful as we begin our design process and are thinking about how we need to build out our plans for our client." 
With the semester underway, Diemel and his peers are in the beginning stages of their project – meeting their client, assessing needs, and starting to think about new, more functional floor plans. Their goal: to deliver a complete house plan for Habitat Forsyth to implement in the future.
While this particular partnership between WFU and Habitat Forsyth is the first of its kind, it is building on the foundation of a long-standing relationship between the two organizations. A consistent contributor to Habitat Forsyth by WFU sponsors a house build every year. In addition, several campus and student organizations volunteer on sites regularly. 
Lutzweiler expressed that sentiment, saying, "This project is just adding a layer to the pre-existing relationship between WFU and Habitat Forsyth, and we are excited to be doing just that." 
Habitat Forsyth has recently reopened both construction sites and its ReStore to volunteers with social distancing guidelines in place. To volunteer visit the volunteer hub here. 
Written by Miranda Wells (WFU '22)
Recent Posts
April 15, 2021

April 12, 2021

April 8, 2021