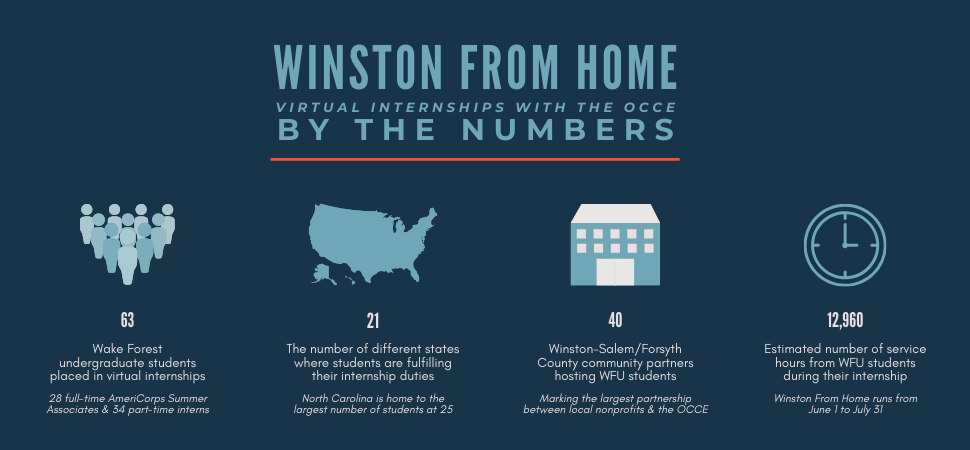 In May, Wake Forest junior Courtney Ewing received an email that she expected, but still didn't want to see — her summer internship with Impact Africa in Johannesburg, South Africa had been called off due to restrictions related to COVID-19. She was set to return to the program after serving there as the Missions Experience Program Intern in 2019.
"When I opened the email and read the final decision, I mourned not going back to Johannesburg for the summer. Even though I kind of knew all along that it probably wasn't going to happen, it was still difficult," explained Ewing. "I switched the narrative pretty quickly though. If I couldn't go to [South Africa], I knew that another opportunity had to be out there, and I got excited at the thought of what that could be."
Unfortunately, Ewing's experience echoes that of college students across the country right now. 
As the 2020 spring semester came to a close, several Wake Forest students were left wondering what their summer would look like in the midst of COVID-19. With stay-at-home orders and travel restrictions still in place throughout the country, internship offers had been rescinded, plans to study abroad were cancelled, research opportunities had fallen through, and part-time job opportunities had been cut.
While most industries were slowing down, work in the nonprofit sector was steadily increasing as organizations continued working to meet the needs of the communities they serve — with increased demand in most instances.
In the unique position of working directly with students and Winston-Salem nonprofits, the Office of Civic & Community Engagement (OCCE) saw a need as well: community partner organizations were looking for assistance in fulfilling their missions, while Wake Forest students were looking for professional experience.
Shelley Sizemore, director of community partnerships in the Office of Civic and Community Engagement developed the Virtual Summer Internship Program, Winston From Home, a re-imagined and expanded version of the Summer Nonprofit Immersion Program (SNIP) she oversees each year. 
"Once we realized we were going to be in this remote-work environment for an extended period of time, and that our summer programs wouldn't be taking place in the traditional form, I reached out to our SNIP service sites, nervous that they weren't going to be able to host interns virtually," explained Sizemore. "We had such a positive response that I reached out to additional nonprofit organizations throughout Winston-Salem and discovered there was a significant need for work that could be done virtually to help these organizations."
Together, Sizemore along with the rest of the OCCE staff quickly devised a plan for remote, virtual summer internships in partnership with 40 Winston-Salem nonprofits. Over the span of two weeks, 87 students were interviewed, 63 of whom were matched with open positions — including 28 students in full-time roles as Summer Associates through AmeriCorps, and 35 students placed in part-time positions.
Students are participating in the program while living in 21 states throughout the country, from California to Maine.
"It's been one week, and this has already been an incredible opportunity," added Ewing. "It's apparent that this program was crafted so intentionally; providing an opportunity for those students who had plans that fell through this summer, for those students that wanted to gain experience in the nonprofit sector, and for those students that were looking for continued or new professional experience."
The project marks the largest partnership effort between the OCCE and Winston-Salem nonprofits during the summer months. 
"All the placements we identified for community partners and students are focused on capacity-building and supporting local nonprofits in community changework," said Sizemore. "If each intern is successful in the work they're doing — which I believe they will be — we could see a significant increase in the capacity of these Winston-Salem nonprofits because of the resources Wake students are able to offer."
One such local organization is Latino Community Services, which has had to adjust how they operate and serve their constituents during this global pandemic, as the Latinx community has been disproportionately impacted by COVID-19 in Forsyth County. "We went from running educational programs to providing social services like food and necessary items like masks and gloves to our families very quickly," explained Odette Sanchez, executive director of Latino Community Services.
Sanchez also stressed the importance and value an intern provides local nonprofit organizations during this time. 
"To be able to work hand-in-hand with Wake Forest and these students is wonderful. There are four of us on staff currently, working hand-in-hand with families and facilitating programs, and we are struggling right now with the lack of manpower," said Sanchez. "Latino Community Services is so grateful to have interns help our organization, and join in the work that we are doing throughout the community."
Community partners will provide a work plan that both enriches the capacity of the organization and provides professional development for the student while mentoring them throughout the nine-week program.
"At Latino Community Services, interns will be helping with our communication efforts by finalizing our new website and handling our social media outreach," said Sanchez. "This will help on so many levels, providing better communication with our constituents, volunteers, and donors and helping to generate exposure for the work that we are doing."
In addition to working with their respective nonprofit organization, Summer Associates and part-time interns will attend virtual workshops on nonprofit management and professional development to enhance their experience in the virtual summer program. 
"Even though you're missing some of the community aspect by not being there in person — it's cool to enter a space with my peers where we're all doing this together in a remote experience — figuring out the nuances that come with professional work, and helping these nonprofits at the same time. It's a pretty wonderful experience," said Ewing.
Recent Posts
May 4, 2021

May 3, 2021

April 28, 2021