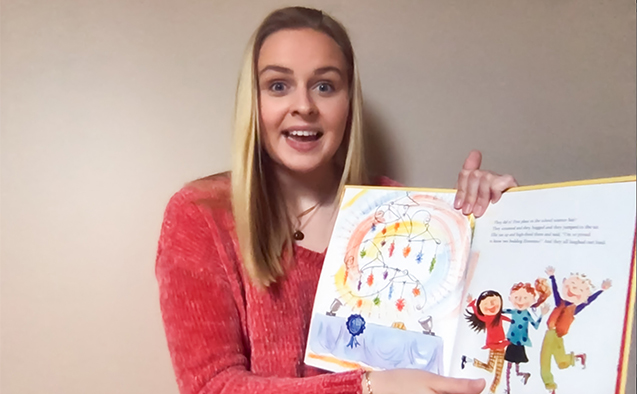 When Taylor Thornton ('22) was a little girl growing up in Kennett Square, Pennsylvania, she loved having storytime with her mom. Among her favorite books was "The Blue Ribbon Day" by Katie Couric.
"I think it teaches a really valuable lesson about finding what you're good at and not expecting to be good at everything or the same things others are good at," said Thornton, a sophomore English and communications major. "I think it says a lot about giving yourself grace, and about perseverance, which are incredibly important especially in this time."
A video of Thornton reading "The Blue Ribbon Day" has been posted on the YouTube channel of Wake Forest's Office of Civic & Community Engagement (OCCE.) It's all part of Wake Reads, which is designed to provide "storytime" for children while giving parents a break as they juggle working from home and caring for their children who are out of school until May 15 because of the COVID-19 pandemic.
Marianne Magjuka, executive director of the OCCE, said Wake Reads is just another way the University is demonstrating its motto, "Pro Humanitate." There have been more than 100 views to the OCCE's YouTube site, which indicates people are taking advantage of Wake Reads. Moreover, Magjuka knows of at least one local nurse who has spent time on it with her daughter.
"We established Wake Reads as a way to support younger children during this time of social distancing," Magjuka said.
"This is a difficult time for children and caregivers. The Office of Civic & Community Engagement has worked hard to create quality, free educational content, organized in one place, to engage students."Marianne Magjuka, executive director of the OCCE
"Wake Reads is an opportunity for everyone in the Wake Forest community to come together to share the gift of reading," said Magjuka.
Magjuka said the OCCE welcomes diverse readers and stories. So far, nearly two dozen readings have been posted by students, staff and alumni. After they've finished reading, participants submit a form that goes to Jennifer Rubin, OCCE operations manager, who reviews submissions and posts them.
Recent Posts
May 4, 2021

May 3, 2021

April 28, 2021