The Winston-Salem Community Action Coalition consists of 18 AmeriCorps Volunteers in Service to America (VISTA) members sponsored by the Office of Civic & Community Engagement (OCCE) at Wake Forest University. 
Members are placed in full-time, capacity-building roles with community organizations throughout Winston-Salem in the areas of health and food justice, educational equity, and economic empowerment. United by their passion to make a difference, VISTA members have vowed to complete a year of national service and create meaningful change both in Winston-Salem and beyond.
Since August, VISTA members have helped Winston-Salem community partners raise $35,876 worth of in-kind donations and $338,856 in cash donations. In total, VISTAs have engaged 6,560 community members in their event programming. Additionally, they helped to recruit 752 community volunteers who went on to volunteer for a total of 1,280 hours and contributed 1,788 hours to grant writing, obtaining a total of 35 grants.
This month the OCCE is happy to introduce Annie Fullwood, the 2019-20 AmeriCorps VISTA with Piedmont Environmental Alliance (PEA); a local nonprofit that educates and empowers community members to take action towards creating a healthier, environmentally sustainable community. 
In her role, Fullwood works as the program coordinator for PEA's educational programs, Energy Explorers and Every Drop Counts, which are classes taught throughout the year at local Title One schools. Fullwood also assists in building PEA's volunteer pool and the annual Environmental Debate Tournament. 
Annie Fullwood, AmeriCorps VISTA at Piedmont Environmental Alliance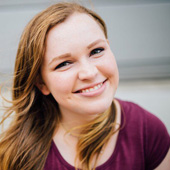 Hometown: Greensboro, N.C.
Alma Mater: University of South Carolina ('19)
Degree: Bachelor of Arts, English and Film and Media Studies
Favorite place in North Carolina: Asheville (I like the mountains and small-town feel)
Why did you join AmeriCorps VISTA?
I graduated a year early from college, so I decided to take a year to return home while working and giving back to the community where I grew up. 
I have always been passionate about the environment, so when I was applying for VISTA and found out that PEA was a host site, I was thrilled. It was where I wanted to be placed since I do believe that creating a healthier environment is one of the most pressing issues in our lives today. By working with PEA as its VISTA for the year, I have the opportunity to spread its mission through the education and empowerment lens, which I believe to be impactful and fulfilling. 
What would you say is the highlight of your 2019-2020 VISTA year so far?
I've enjoyed becoming a part of the PEA community, with not only the staff but the board members and all of the amazing volunteers. 
The work with our volunteers and to see the impact they have on the community has been amazing to witness. We go into both 7th- and 9th-grade classrooms to teach PEA's environmental education programs and are able to see the direct impact on those students. Not only is that impactful in and of itself, but with our education programs we measure impact through our pre- and post-tests, so being able to see how the kids grow and become excited about the environment is very fulfilling. Additionally, working in the schools also allows us to use a lot of cool, hands-on gadgets, like our energy bike that powers light bulbs the faster students pedal. Activities like this get the students moving and learning about environmental health through interaction. 
What are you most looking forward to in the remainder of your service year?
Earth Day is an annual event that happens each April 22 to demonstrate support for environmental protection. Naturally, that makes April a big month for PEA with the Earth Day Fair and the Environmental Debate Tournament. However, with COVID-19 and stay-at-home orders in effect, we are shifting to host these events virtually. 
All of our events, originally scheduled as in-person events, will be held during the week of Earth Day (April 20-26); there's going to be new online content each day. So, I'm super excited about seeing this virtual shift and how the community will engage with the Earth Day Fair. I hope to see the Earth Day Fair bring the Winston-Salem community together in this time of isolation and spark some valuable conversations about the environment and the climate crisis.
How has VISTA changed for you amidst COVID -19?
As I mentioned before, April is a big month for PEA events, so going virtual has been a big change but we have a great group of volunteers and staff that are making this possible. 
For me, I've been very hands-on with the Environmental Debate Tournament, a leadership training opportunity for high school students, which had over 100 students signed up from schools across the county. We are currently in the process of shifting this event to be online; we will have a much smaller group than originally planned but any chance for kids to debate and talk about environmental issues is amazing.
I've also been working to create videos of the curriculum for Energy Explorersーour program for 7th-grade students to learn about where energy comes from, its impacts, and how we can conserveーwhich will be shared with local students.
Honestly, I think this will increase the impact of the program with more kids having access to the curriculum than they would have with myself and the volunteers in a classroom. Though COVID-19 has been a sad situation and stressful on everyone, it has given us an opportunity to really grow as an organization and build an online presence for PEA. 
For those people interested in working with AmeriCorps – what would you want them to know?

I would say that a service year with AmeriCorps is a great learning experience. Even if you don't plan to stay in the nonprofit sector, you will learn a lot about the working world, building your professional skillset, community engagement, and capacity building. All of which are valuable skills that you can bring to any career post-AmeriCorps. 
Recent Posts
May 4, 2021

May 3, 2021

April 28, 2021