The Winston-Salem Community Action Coalition consists of 18 AmeriCorps Volunteers in Service to America (VISTA) members sponsored by the Office of Civic & Community Engagement (OCCE) at Wake Forest University. 
Members are placed in full-time, capacity-building roles with community organizations throughout Winston-Salem in the areas of health and food justice, educational equity, and economic empowerment. United by their passion to make a difference, VISTA members have vowed to complete a year of national service and create meaningful change both in Winston-Salem and beyond.
Since August, VISTA members have helped Winston-Salem community partners raise $4,514 worth of in-kind donations and $175,379 in cash donations. In total, VISTAs have engaged 1,476 community members in their event programming. Additionally, they helped to recruit 256 community volunteers who went on to volunteer for a total of 930 hours, and contributed 563 hours to grant writing, obtaining a total of 25 grants.
This month the OCCE is happy to introduce the three 2019 – 2020 VISTA members who helped coordinate the 2020 Martin Luther King, Jr. Read-In Day at Winston-Salem State University: Jasmine Hodges, Julia Ough, and Michelle Howard. 
In her role, Hodges supports the OCCE by assisting Director of Community Partnerships, Shelley Sizemore, recruit and screen applicants for the Summer Nonprofit Immersion Program (SNIP). Ough assists HandsOn NWNC in their efforts to engage both nonprofit organizations and community members in serving low-income and under-served populations, while Howard works with Boston Thurmond United to engage caregivers and educators at several local elementary schools.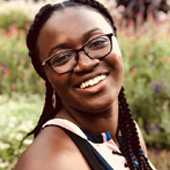 Jasmine Hodges, WFU Office of Civic & Community Engagement
Hometown: Winston-Salem, N.C.
Alma mater: Elon University (BA Public Health)
Favorite place in NC: Pelican's SnoBalls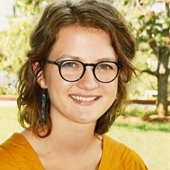 Julia Ough, HandsON NWNC
Hometown: Roswell, Ga.
Alma mater: Wake Forest University, Bachelor of Arts in English
Favorite place in NC: Roan Mountain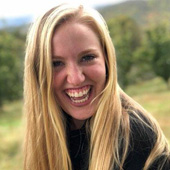 Michelle Howard, Education – Boston Thurmond United
Hometown: Winston-Salem, N.C.
Alma mater: Furman University, Bachelor of Arts in Sociology
Favorite place in NC: Asheville
Why did you join Americorps VISTA?
Jasmine: When I graduated college, I didn't want to go straight into graduate school, but I also didn't want to have the commitment of a long-term, full-time job. With that said, I decided to return home and figure out what was next. I learned about Americorps through a friend, thought it was appealing, and would be a way for me to learn more about what I want to do professionally. I have always known that I not only wanted to give back to my community, but work in it as well, and being a VISTA seemed like the perfect opportunity to fulfill that goal.
Julia: There's a lot of emphasis on international service, but I wanted to serve domestically and in Winston-Salem because it has become my home over the last six years, and I see a lot of need in our community. 
Michelle: I knew I wanted to go into the nonprofit sector, and that I wanted to give back and work with children in some capacity. I chose the Winston-Salem Community Action Coalition because it's in Winston-Salem, my hometown. Even though I grew up here, I didn't really know a lot about the history and I wanted to return home and serve my community. 
What are you most looking forward to in the year ahead?
Jasmine: I'm looking forward to assisting with the Summer Nonprofit Immersion Program (SNIP). It will be exciting, as a recent graduate myself, to see the Wake Forest undergraduate students grow and learn about nonprofits and hopefully find their passion.
Julia: I'll be starting graduate school to become a school counselor in August, so I'm really excited to take that next step. I have been accepted into Vanderbilt University's Master of Education in Human Development Counseling program where I plan to specialize in school counseling. 
Michelle: This summer, I'll be working with the Children's Defense Fund Freedom School and I'm looking forward to working with that. Post-VISTA, I'm looking forward to taking what I've learned as a VISTA and using those tools as I navigate my way through the nonprofit sector, hopefully working in the areas of development and program management. 
For those people interested in working with AmeriCorps, what would you want them to know?
Jasmine: Community partnership is so important; but more than that, you have to understand that this work is about working alongside community members. You have to know the community you're working with before you can begin to help them. You can't just tell people what to do and what changes to make, you have to help them utilize their skills and abilities. 
Julia: I would want them to know that it's a really meaningful opportunity to serve our country. There are a lot of underserved communities throughout the United States, so it's really important to work with them. There are a lot of great opportunities for Americorps alumni, including scholarships for doing a year of service with Americorps, non-competitive eligibility for some government jobs, and even an education award at the end of your service to help pay off student debt. 
Michelle: It might be hard in the beginning, but it's worth it. It's a great opportunity to learn and grow; I have learned so much about myself, both personally and professionally. I would say be open to anything and everything that comes your way throughout your year of service..
What has being a VISTA meant for you?
Jasmine: I've learned so much more about my community, even though I've lived here all my life. I've learned more of the ins-and-outs. Understanding how my community functions has been really impactful and has furthered my desire to pursue a career in service, particularly working in the area of public health. 
Julia: It's meant that I've oriented myself toward learning about equity; that's been important for my self development and my development as a citizen, and something I look forward to utilizing as a school counselor. 
Michelle: It's meant challenging me to do things that are outside of my comfort zone, which has made me grow. I love being involved in the community and working with community partners to support the efforts of local elementary schools. 
What would you say is the highlight of your VISTA year so far?
Jasmine: Definitely the MLK Day Read-In, which happened in mid-January. It was really nice to see the process come together. We started planning for it in September, so that was five months of meeting with people and making sure we had everything together for the event to run smoothly. I was really proud to see all the children who participated, the volunteers that we were able to reach, and all of the sponsors who donated items for the event to celebrate Martin Luther King, Jr. and educate children in the community about him, and his mission. 
Julia: I loved co-planning the MLK Day Read-In with the other VISTAs (Jasmine and Michelle). I am excited to become a school counselor and hopefully do a lot of equity education for staff and children at elementary schools, so this was a way for me to express that interest and gain experience in my role as a VISTA.
Michelle: Meeting and working with community members has definitely been my highlight. I've enjoyed seeing a different side of the community. With all the programming I am constantly reaching out to community constituents, and it's amazing to see how many people and businesses give back to their community. 
How did helping to coordinate the MLK Day Read-In serve your goal as a VISTA?
Jasmine: It's a chance for the community to interact. A lot of times people don't see college students as a part of their community, but in fact they are. I think it helps to both immerse college students into the community and gives families in the community an opportunity to learn from and engage with local college students. 
Julia: The event was great because so many different types of people, from various backgrounds, contributed to it, including the volunteers and children. I loved that different kinds of people from the community came together in order to learn about civil rights and the legacy of Dr. Martin Luther King, Jr.  
Michelle: It was fulfilling to see everyone's hard work pay off on the day of the event; all of the community members who volunteered their time, the local grocery stores who donated food for the event, and the children and their families who came out both in support of the event and because they wanted to learn about Dr. King's legacy.  
What have you learned from VISTA throughout the year that helped make the event possible?
Jasmine: I've learned how to better navigate different leadership and communication styles, especially in collaborative projects like the MLK Day Read-In, which was crucial in making this event successful. 
Julia: Working with HandsOn, I have learned a lot about the network of nonprofits that work together in our region and that's been really helpful for me to understand the collaborative role of different agencies in making an event like this possible.
Michelle: Early on in the year, I had to get over my fear of talking to new people and asking for donations. I now love speaking with new people and working with community members to come together to make impactful events like this a reality. 
What about the event furthered your interest in pursuing a career in service?
Jasmine: Being able to see the community interact and work with the community is what furthers my interest in service, especially working with children. Knowing that they're the future and what you teach them can impact a whole community is fascinating. This experience solidified my desire to work with both children and communities to better the future in public health education. 
Julia: I think working with college volunteers was the most rewarding for me. Even though I'm only a couple of years older; I think it's important for people to become engaged in their communities through service. That's a goal of mine as I move forward in my life: to continue serving and mentoring young people, including children. 
Michelle: I have learned a lot about development. The MLK Day Read-In was the first really big event that I had to go out and ask people for money and donations, and simply spread the word about the event in general. I've come to learn that I'm actually really good at this and am looking into careers in development in the nonprofit sector.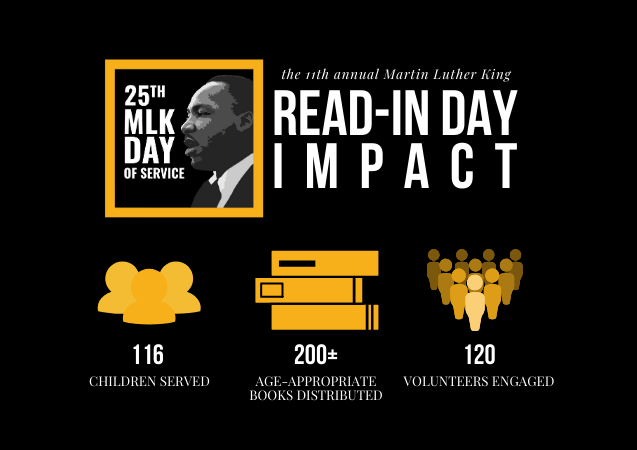 Recent Posts
May 4, 2021

May 3, 2021

April 28, 2021