The Winston-Salem Community Action Coalition consists of 18 AmeriCorps Volunteers in Service to America (VISTA) members sponsored by the Office of Civic & Community Engagement (OCCE) at Wake Forest University. 
Members are placed in full-time, capacity-building roles with community organizations throughout Winston-Salem in the areas of health and food justice, educational equity, and economic empowerment. United by their passion to make a difference, VISTA members have vowed to complete a year of national service and create meaningful change both in Winston-Salem and beyond.
Since August, VISTA members have helped Winston-Salem community partners raise $4,514 worth of in-kind donations and $175,379 in cash donations. In total, VISTAs have engaged 1,476 community members in their event programming. Additionally, they helped to recruit 256 community volunteers who went on to volunteer for a total of 620 hours, and contributed 563 hours to grant writing, obtaining a total of 25 grants.
This month the OCCE is happy to introduce Alyvia Williams, the 2019-20 AmeriCorps VISTA with Goodwill Industries Northwest North Carolina; a nonprofit that serves the community sale of donated items, funded employment, and training programs. 
In her role, Williams supports Goodwill by assisting in the implementation and management of Getting Ahead in a Just Gettin' by World (Getting Ahead), a 16 week workshop for individuals living in or near the poverty level to discuss and learn about the impact of poverty in their communities, the hidden rules of economic class, and how to build resources to get ahead. 
Alyvia Williams, AmeriCorps VISTA at Goodwill Industries NWNC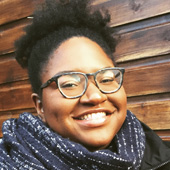 Hometown: Winston-Salem, N.C.
Alma Mater: Wake Forest University ('17)
Degree: Bachelors of Arts, Biology
Favorite place in Winston-Salem: Central Library
Why did you join AmeriCorps VISTA?
Two 2018-2019 AmeriCorps VISTAs, that I knew from college, worked in positions focused on teaching and education in Winston-Salem. They told me that they really enjoyed being able to work in and learn more about the community, so I decided to apply. I also wanted to give back to the community that I didn't really know much about, even though I had lived here during college. 
What would you say is the highlight of your 2019-2020 VISTA year been so far?
I've really enjoyed helping to develop the Getting Ahead Graduate Network, which provides graduates of Getting Ahead with monthly events to continue learning together and building resources for themselves and the community. Before the network, graduates felt like they were left on their own, with little follow up after the program. So, the network is something that will only continue to grow and further the effectiveness of the program. 
What are you most looking forward to in the year ahead?
I've never worked with grants before, so I'm looking forward to both learning more about that skillset and helping with the grant-writing-process at Goodwill. Specifically, I'll be working on preparing grants that would potentially fund both Getting Ahead and the Graduate Network to help expand the programs and assist with operations, food, and any additional support attendees will need along the way. 
For those people interested in working with AmeriCorps – what would you want them to know?
I would tell them that they're going to meet a lot of amazing people! That has been my favorite part, just being able to make amazing connections with my peers and other professionals, and see what they are doing in the nonprofit world and for public service. 
Recent Posts
May 4, 2021

May 3, 2021

April 28, 2021