The Winston-Salem Community Action Coalition consists of 18 AmeriCorps Volunteers in Service to America (VISTA) members sponsored by the Office of Civic & Community Engagement (OCCE) at Wake Forest University. 
Members are placed in full-time, capacity-building roles with community organizations throughout Winston-Salem in the areas of health and food justice, educational equity, and economic empowerment. United by their passion to make a difference, VISTA members have vowed to complete a year of national service and create meaningful change both in Winston-Salem and beyond.
Since August, VISTA members have helped Winston-Salem community partners raise $3,905 worth of in-kind donations and $131,254 in cash donations. In total VISTAs have engaged 408 community members in their event programming. Additionally, they helped to recruit 117 community volunteers who went on to volunteer for a total of 620 hours, and contributed 185 hours to grant writing, obtaining a total of 11 grants.
This month the OCCE is happy to introduce Casey Capstick, the 2019-20 AmeriCorps VISTA with ABC of NC: a local non-profit that provides high-quality diagnostic, therapeutic, and educational services to people with autism spectrum disorder. In her role, Capstick builds capacity by managing social media for the organization, researching and writing grants, creating promotional materials, and helping to plan fundraising events. 
---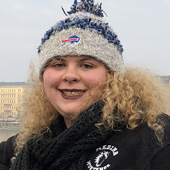 Casey Capstick, AmeriCorps VISTA at ABC of NC
Hometown: Medina, N.Y.
Alma Mater: State University of New York, Oswego ('16)
Degree: Bachelor of Arts, History and Anthropology
Favorite place in North Carolina: Home Slice Pizza and Subs in Greensboro, N.C.
Why did you join AmeriCorps VISTA?
Out of college I started working in Information Technology but I didn't like what I was doing, so I decided to reassess what I wanted to do, and make a career change. For me, AmeriCorps VISTA has been a stepping stone into nonprofit work, which is ultimately what I want to do long term. This program has really helped me build a professional network and further understand how nonprofits function and work in communities. 
What would you say is the highlight of your 2019-2020 VISTA year been so far?
We just found out that ABC of NC is the recipient of the Cannon Technology grant for $84,000! This was the first grant that I helped ABC of NC apply for, and it is the definite highlight of my year to date. It's exciting to see the entire process from start to finish: putting the grant together to now experiencing what ABC of NC can do with the funding is such a great experience, especially so early into working in the nonprofit sphere. 
The funds from the grant will be used to get smartboards and iPads that will increase interactivity in the classroom. There are so many possibilities for our students with this technology; like our nonverbal students using iPads to communicate with their teachers by pressing a word in a designated app, that ABC of NC is looking forward to implementing. 
What are you most looking forward to in the year ahead?
In my role I have been working a lot with social media and data analytics, learning how to effectively promote and publicize ABC of NC events and their mission. I am excited to take what I have learned over the past few months in order to enhance ABC of NC's communication outreach to the community. 
Additionally, with Autism Awareness Month just around the corner (April) we will have a lot of upcoming events that I am excited to help plan from a logistical perspective and to promote through all of our digital channels. We also have a big fundraiser in June, a golf tournament to help raise funds and awareness for children with autism spectrum disorder, that I am really looking forward to. I am excited to work through the planning process from start to finish, and see how this event impacts ABC of NC's mission. 
For those people interested in working with AmeriCorps – what would you want them to know?
Personally, I have learned a lot through the mentors at ABC of NC. They have helped enhance my professional skills, by sharing their experiences and sending me seminars or articles that can improve those skills, like precision, management, and attention to detail. This is something I think is very unique to the AmeriCorps VISTA program, it's not common to have a group of mentors that set aside time to work with you and set steps for you to succeed even after you leave. 
Recent Posts
May 4, 2021

May 3, 2021

April 28, 2021