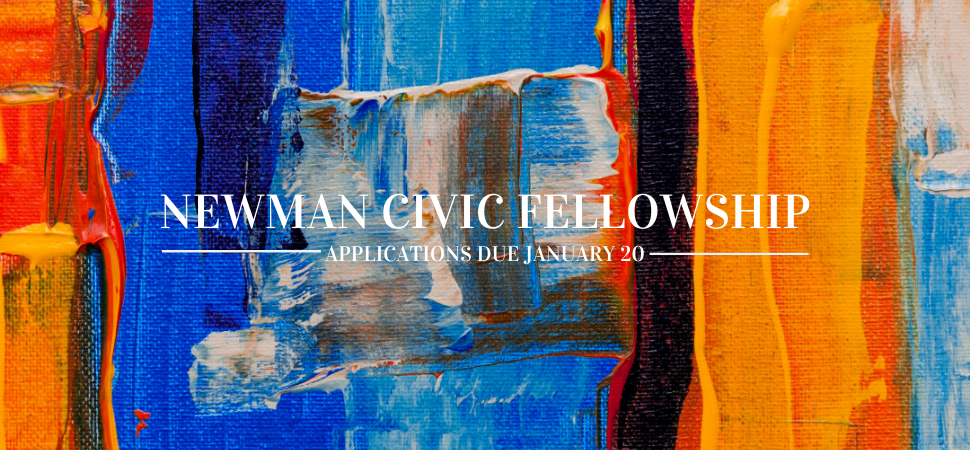 The Office of Civic & Community Engagement is currently accepting applications for the Newman Civic Fellowship. Intended to honor the leadership legacy of Campus Compact founder Frank Newman, the Fellowship recognizes and supports community-committed students who are change makers and public problem-solvers that:

Engage in collaborative action with others from campus or from surrounding communities in order to create long-term social change

Take action in addressing issues of inequality and political polarization 

Demonstrate the motivation and potential for effective long-term civic engagement
The Fellowship is open to enrolled sophomore and junior students in good academic standing. Applications are due by January 20 at 5 PM EST.
The Newman Civic Fellowship is a year-long program through Campus Compact. The Fellowship provides students with training and resources that help develop strategies for social change, and includes virtual learning opportunities and networking as part of a national network of engaged student leaders. 
Learn More About The Newman Civic Fellowship
If you have questions about the WFU Newman Civic Fellow application, please contact Marianne Magjuka. Selected students will go through a brief interview process between January 22-24. One student will then be selected and nominated by Wake Forest University for the Fellowship. 
Apply To Be A WFU Newman Civic Fellow
Recent Posts
May 4, 2021

May 3, 2021

April 28, 2021