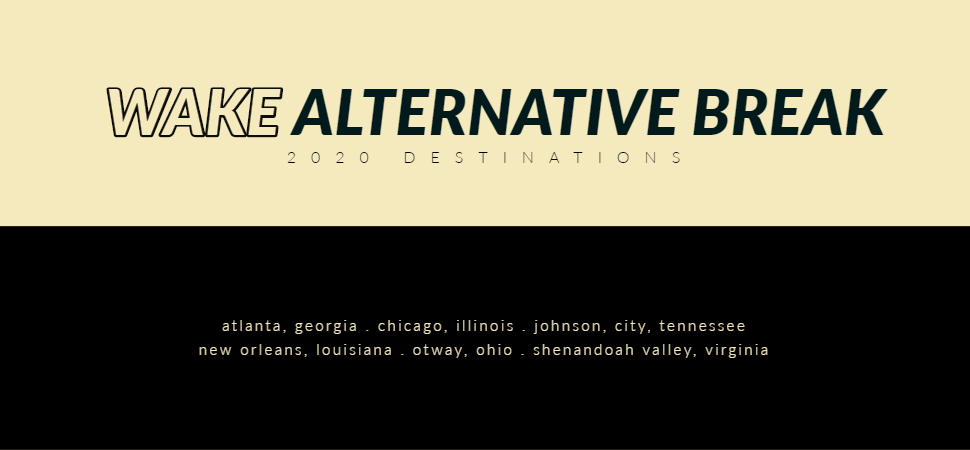 Wake Alternative Break (WAB) is a week-long alternative spring break program for WFU  undergraduate students, that allows students the opportunity to visit cities outside of Winston-Salem, and provide direct-service while visiting. During WAB, students will learn about a particular social issue, while creating lasting friendships with fellow trip members. 
The Office of Civic & Community Engagement is happy to announce six Wake Alternative Break destinations for the 2019-20 academic year. 
Participants will leave for their destinations the weekend leading into Spring Break (March 7-8), volunteering at their sites throughout the week (March 9-13), and returning to campus the following weekend (March 14-15). 
All students must apply to participate in the trip of their choice. Applications are open and close on February 7, 2020. A $100 non-refundable deposit is required upon acceptance to the program, and counts toward the cost of the trip. Spots are filled on a first-come, first-served basis.  It is $350 to participate in the alternative break programs, however the OCCE is happy to assist students who need additional financial support, by connecting them with scholarship opportunities. 
Apply to be a Wake Alternative Break 2020 Participant
If you are a WFU undergraduate student interested in becoming a trip leader, applications are due by January 24. Trip leaders are responsible for recruiting participants for their WAB site; facilitating pre-service orientation; managing daily reflections during their respective trips; and handling the logistics of their trips during the break. Due to the responsibility, trip leaders, attend WAB at a reduced rate of $175 per trip. 
Apply to be a Wake Alternative Break 2020 Trip Leader
If you are interested in learning more about Wake Alternative Break, please contact Deb Marke.
Recent Posts
April 27, 2022

April 13, 2022

April 8, 2022