The Winston-Salem Community Action Coalition consists of 18 AmeriCorps Volunteers in Service to America (VISTA) members sponsored by the Office of Civic & Community Engagement (OCCE) at Wake Forest University.
Members are placed in full-time, capacity-building roles with community organizations throughout Winston-Salem in the areas of educational equity, economic empowerment, and health and food justice. United by their passion to make a difference, VISTA members have vowed to complete a year of national service and create meaningful change in Winston-Salem and beyond.
Last year, a cohort of 9 VISTA members helped Winston-Salem community partners apply to 54 grants and receive $235,650.00 in funding; support 454 programs and events for their service sites; contribute over 72,000 hours of service; and engage almost 1,500 community volunteers.
As the year progresses, each month members of the 2019-20 VISTA Cohort will be featured in the OCCE News Letter.
This month, we're happy to introduce Meli Fonseca, the 2019-20 AmeriCorps VISTA leader. In her position, Fonseca plays a key role in helping to expand and build the capacity of individual AmeriCorps VISTA members and their respective service sites by providing support and coordination to increase the overall impact of the project.
---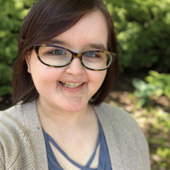 Meli Fonseca, 2019 – 2020 AmeriCorps VISTA Leader
Hometown: Gastonia, NC
Alma Mater: Wake Forest University ('18)
Degree: Bachelor of Arts, Religious Studies
Favorite place in Winston-Salem: Historic Bethabara Park
Why did you join AmeriCorps VISTA?
After graduating from Wake Forest, I knew I did not want to go straight into graduate school. I wanted to take a gap year to do something service-oriented and gain professional experience.
What was your role during your 2018-2019 VISTA year? What was the highlight of this experience?
Last year for my VISTA position I worked with the Winston-Salem Urban League. One of my responsibilities was marketing; I created flyers, made sure the organization was active on social media, and sent out weekly newsletters. I also helped manage and coordinate a lot of the employment-based events, such as career expos, the Summer Youth Employment Program, and monthly mixers for the Young Professionals. This was a highlight for me because, in addition to coordinating the events, I was able to attend and connect with community members. The Winston-Salem Urban League really gave me the opportunity to be involved in community events that I would not have normally sought out.
What made you want to pursue VISTA leadership?
I decided to be the VISTA leader this year because I wanted to do another year of service. I took on this role to further my engagement with the community and expand my leadership skills.
What are you most looking forward to in the year ahead?
I'm really looking forward to working with all the VISTA members! This year we have 18 VISTAs, so I'm excited to watch everyone grow and be a catalyst for change in their respective organizations.
What would you want people to know that want to get involved in AmeriCorps VISTA?
If you are looking to work with non-profit organizations, this is a great opportunity to get involved in the non-profit sector and work with organizations that you may share a common interest with. This is the perfect opportunity for those looking to take one or two years off before pursuing graduate school or another professional venture. It allows you to gain professional experience and give back to the community, while also figuring out your next move.
Recent Posts
May 4, 2021

May 3, 2021

April 28, 2021