Main Content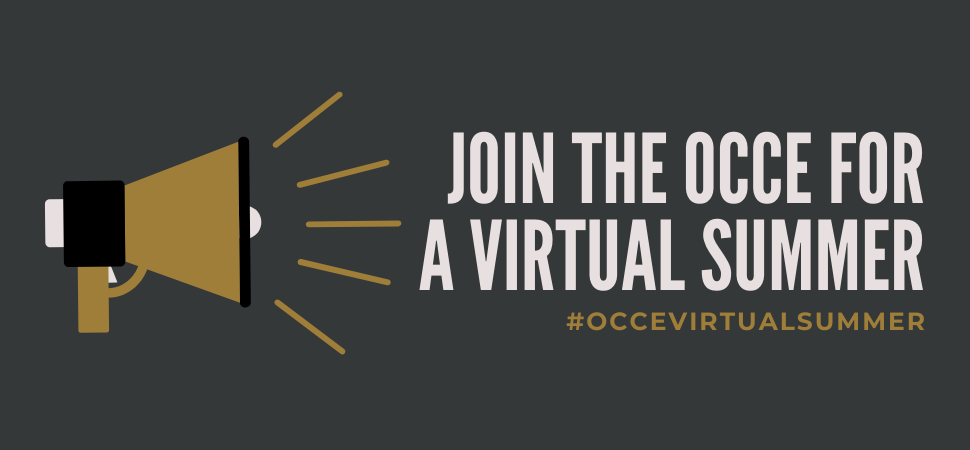 A lot has changed in the last few weeks, and that includes summer plans for several Wake Forest students. For current or incoming Wake Forest students that are now left trying to find a new internship or research opportunity, there's no need to worry. The Office of Civic & Community Engagement is happy to introduce the #OCCEVirtualSummer, with both full- and part-time virtual programming running throughout June and July.
Together with local nonprofits and community organizations, along with Wake Forest faculty, the OCCE is bringing professional skill-building opportunities to Wake Forest students. Opportunities are available in multiple areas including the nonprofit and public sector, research, democratic engagement, K-12 initiatives, and more.
Due to high demand, several Virtual Summer positions have been filled, and are noted below. If you are interested in joining the Social Justice Collaborative, Deacs Decide, or Engage Winston, please reach out to the appropriate staff member listed below.
Virtual Summer Info
OCCE Virtual Summer will begin as early as June 1, 2020, with all programs ending by July 31, 2020. Each program has varying start dates and time commitments for students.
Have a question about a particular program? Please contact the appropriate staff member.
Students cannot receive credit for participating in an OCCE Virtual Summer program.

Virtual Summer Internships
The OCCE is happy to offer virtual full- and part-time internships for WFU students at local nonprofits. Develop skills in communication, data analysis, partner development, market research, and project management.
Full-time internships will run from June 1-July 31, while part-time internships are flexible and can be determined by the student's schedule.
Paid and unpaid opportunities are available.
All Virtual Internships have been filled.

Summer Research Collaborative
Help conduct civic research projects alongside Wake Forest faculty, focused on the influence of COVID-19 in Winston-Salem and Forsyth County.
Students will conduct eight weeks of research beginning June 8 and ending July 31 in a virtual setting.
The final deliverable from participants will be a research report in coordination with a local Winston-Salem nonprofit.
All Research positions have been filled

COVID-19 Oral History Project
Develop and run a podcast!
In partnership with the ZSR Libary and MUSE Winston-Salem, work in teams with other Wake Forest students to conduct oral history interviews, preserving the experiences of Winston-Salem residents during the COVID-19 pandemic.
Interviews and podcasts will be archived in the ZSR digital library upon completion.
The Oral History Project is at capacity.

Deacs Decide Summer Fellowship
Current and incoming Wake Forest students can work together on project-based, nonpartisan civic engagement work for the upcoming 2020 election. The Summer Fellowship is a virtual opportunity to work collaboratively on voter education and political campaigns, as well as support nonpartisan organizations and Get Out The Vote efforts.
The Deacs Decide Summer Fellowship will take place June 1-July 31.

Social Justice Collaborative
A co-curricular learning program for current and incoming WFU students committed to social justice, sustainable social change, and activism. Build partnerships on campus and in the community, and help develop strategies and creative problem-solving skills while building a community action project about various social justice topics.
Participants will meet weekly in a virtual setting, compiling an online portfolio on different social justice topics.

Engage Winston
Be a mentor to incoming Wake Forest students, along with Winston-Salem/Forsyth County high school juniors and seniors. Develop project management, coaching, mentoring, and communication skills while helping participants learn about civic identity and community engagement, and familiarizing them with local Winston-Salem organizations.
Engage Winston is a virtual, two-week program from July 27-August 7.
K-12 Engagement With Summer Learning
Summer Learning with the Office of Civic & Community Engagement supports summer enrichment for children enrolled in the Winston-Salem/Forsyth County School system.
A continuation of the education equality initiative of the OCCE, Summer Learning will support students with two unique programs: Virtual Summer Camps, and Summer Activities Kit.
If you have questions on how to get involved with Summer Learning, please contact Camry Wilborn.
Volunteer Opportunities
Do you want to make a difference in the K-12 space, but are looking for something different?
The OCCE is happy to offer different volunteer opportunities throughout the summer and beyond.

Virtual Summer Camp Counselor
Become an OCCE Virtual Summer Camp counselor! The OCCE is offering eight, week-long academic camps throughout July for rising third through eighth-grade students attending a public Winston-Salem/Forsyth County school.
Develop a week-long curriculum with learning goals and activities for camps that focus on STEM, food and nutrition, government/policy, medicine, debate, writing, and the arts. Don't see a topic that matches your expertise? Pitch us!
All Camp Counselor positions have been filled.

Summer Activities Kit
Help provide educational kits for summer camps that are operating throughout Winston-Salem and Forsyth County during the COVID-19 pandemic. Wake Forest students will develop curriculum and guidelines for the kit, including a material list, that will be shared with the organizations in order to provide additional enrichment for children. Kits will cover varying subjects, including STEM and art.
Have an idea for a compelling summer activities kit not listed here? Let us know!
All Activity Kit positions have been filled.