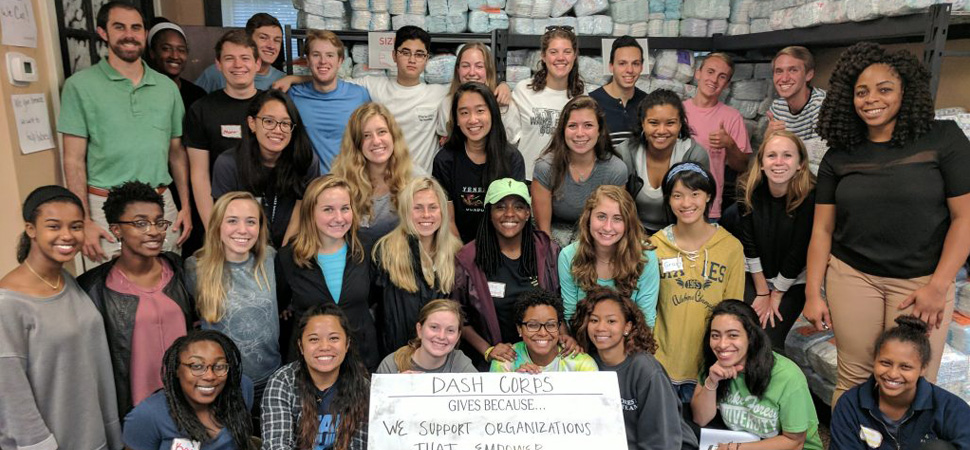 Dash Corps is a leadership and civic action program for any student looking to get more engaged in the Winston-Salem community.
Students are paired with non-profit and civic organizations for a year-long exposure to community development. Participants learn about civic identity, social action, and how to make a positive change in their local community. Projects are selected by the Dash Corps leadership team based on proposals submitted from community organizations.
The curriculum includes learning about asset-based community development, social identity, and non-profit management. Starting in January, student teams build capacity for their assigned organization with a semester-long project. Past projects have included developing a computer lab for Samaritan Ministries, mobile application consulting with Experiment in Self Reliance, and expanding community engagement for the Yadkin RiverKeeper.
Take a look back at the 2019-20 cohort's final projects here.
Join Dash Corps
Applications are open and accepted on a rolling basis.
Become A Partner
Proposals are currently closed, and will be available for Fall 2021.
Get Involved
Have a question about Dash Corps?
2020-21 Dash Corps Cohort
In its sixth year, Dash Corps has welcomed 16 Wake Forest student participants and five student leaders. This year's cohort also marked the first time the program was open to participants of all years, having previously been limited to first- and second-year students.
At the conclusion of the fall semester, student participants and peer leaders heard pitches from a range of local nonprofits, and selected the final three organizations for their spring semester projects.
Throughout the spring semester, students will work in teams to help complete the designated projects and outcomes. In April, final projects will be presented to both the community partners and the cohort.
2020-21 Dash Corps Projects
Community Design Studio: Students will develop and refine design education programs for both middle and high school students. Students will focus on making the programs more accessible, and create outreach plans to yield more diverse participants.
HandsOn NWNC: Students will help to identify additional corporate connections by creating short testimonial videos of past partners who have worked alongside or benefited from HandsOn NWNC programs.
Forsyth County Young Leaders Program: Students will assist with marketing strategies to advertise a new mobile app for youth volunteer service opportunities in Winston-Salem. Students will also create a social media campaign to increase youth volunteerism in the area.