Main Content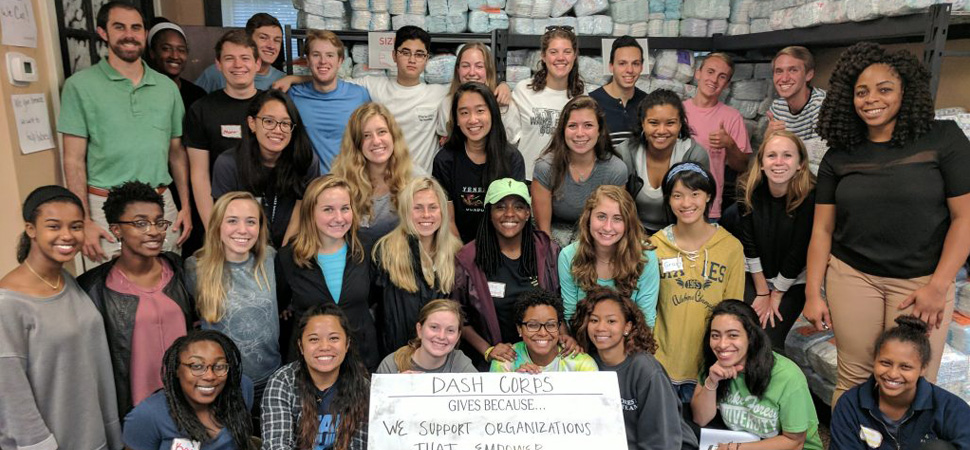 Dash Corps is a leadership and civic action program for any student looking to get more engaged in the Winston-Salem community.
Students are paired with non-profit and civic organizations for a year-long exposure to community development. Participants learn about civic identity, social action, and how to make a positive change in their local community. Projects are selected by the Dash Corps leadership team based on proposals submitted from community organizations.
The curriculum includes learning about asset-based community development, social identity, and non-profit management. Starting in January, student teams build capacity for their assigned organization with a semester-long project. Past projects have included developing a computer lab for Samaritan Ministries, mobile application consulting with Experiment in Self Reliance, and expanding community engagement for the Yadkin RiverKeeper.
Join Dash Corps
Applications are open and accepted on a rolling basis.
Become A Partner
Proposals are currently closed, and will be available for Fall 2020.
Get Involved
Have a question about Dash Corps?
2020 Dash Corps Community Partner Projects
Website Vision and Suggested Re-Design
Students worked with the staff and clients of ABC of NC to re-vision the website around audience needs, making it more accessible. After switching to a virtual model, students submitted a report with the suggested reorganization of the pages on the site and provided suggested design examples.
Project Partner: ABC of NC
Teen Community Building
In an effort to increase both teen and young adult engagement, and add components of community building for individuals with Down Syndrome between 6th-12th grade, students developed 'Teen Time' events for the Down Syndrome Association of Greater Winston-Salem. 
Project Partner: Down Syndrome Association of Greater Winston-Salem
Neighborhood Asset Maps
After canvassing throughout one local neighborhood and conducting resident interviews, students developed an asset map for the Bowen Park Community supported by Neighbors for Better Neighborhoods. The goal: to create a dynamic community asset map, that is sustainable for the organization and its members. 
Project Partner: Neighbors for Better Neighborhoods
Volunteer Tracking System
In order to ensure volunteers are properly trained, students worked with the soup kitchen staff at Samaritan to develop a volunteer manual for first-time volunteers. The manual is thorough yet concise and is understandable from a diverse group- a key asset as Samaritan works with a diverse group of volunteers. 
Project Partner: Samaritan Ministries
Community Garden Strategic Plan
Students developed both a strategic and marketing plan for a multi-use community garden at WS Mixxer's to expand its offerings to the community and promote sustainable education and entrepreneurship. While it will produce food; space will also be used to create a "test site" for urban agriculture where makers can test unconventional or experimental methods of gardening.
Project Partner: WS Mixxer